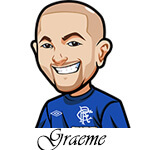 Follow @SBTSportBetting


[Get Exclusive Tips on our Patreon, Ad-Free
]
It's that time of the year – the middle of December, just a couple of weeks before the transfer window opens, and the rumours are already flying.
One of our favourite rumours is Fernando Torres going back to Liverpool. Can you imagine that? Liverpool, having all of these striker problems since Suarez left. Torres, who has looked a shell of a man since leaving Liverpool.
It really could be a match made in heaven. Just imagine Balloteli and Torres up front. They could be the greatest striker duo since Shearer and Sutton…..or Laurel and Hardy.
Either way, the rumour got us curious so we decided there was only one thing to do: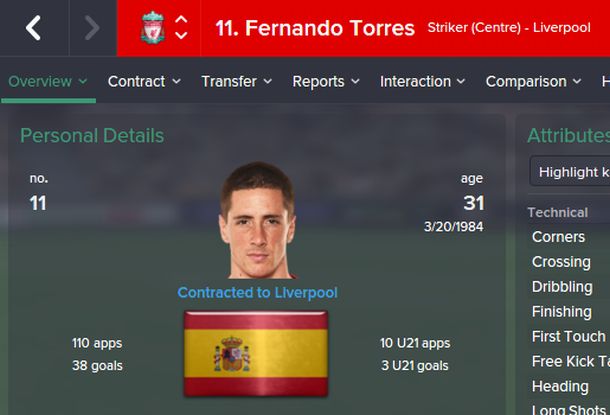 Yep, edit Football Manager 2015, put Fernando Torres in Liverpool and see how he does.
With Liverpool currently sitting 10th in the EPL, 7 points off 4th place and with just 19 goals scored in 16 games – how much of a difference would Fernando Torres make? Let's find out: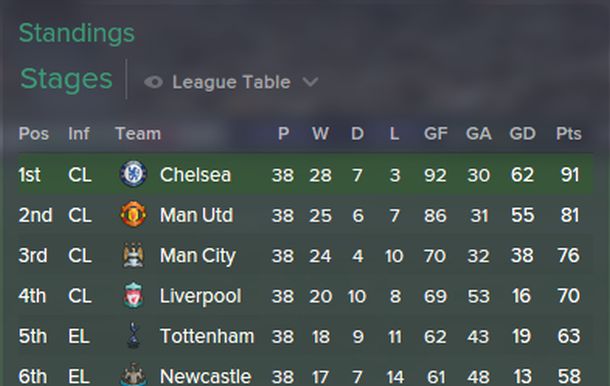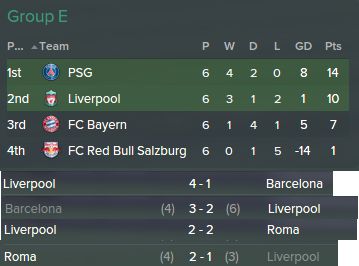 So while Fernando Torres joining Liverpool didn't win them the league, he was still an important part of the squad and managed to get 26 goals throughout the season, including 17 goals in the Barclays Premier League.
He remained mainly healthy throughout the season, and helped lead the team to 4th in the Premier League and that ever crucial Champions League spot.
What was really interesting though, was that as we were hoping in the simulation – Liverpool went for a Balotelli/Torres strike force.
Just how good was this strike force? THIS good:

That's right – during the January transfer window Rodgers had enough faith in the duo that he sold Daniel Sturridge to Arsenal. Balotteli racked up 27 goals throughout the season, with many thanks to Torres and his key assists. While Torres never managed to win a player of the month award, he was in the team of the week 4 times.
So while Torres to Liverpool won't be a game changer – he gets the best out of Balloteli. If he could do that in real life, then this would be a great move for Rodgers to take off some of the embarrassment from what is really, the dud of the Summer transfer window so far.
But Where Does Torres Fit Best?
While running this simulation we actually got in a bit of an argument in the SportsBettingTips.org offices about where Torres would fit best. Would he work better with the likes of Liverpool who are expected to be amongst the top 4? Or a mid table team such as Swansea, where he could turn them from good into great? Or even a team expected to get relegated such as Hull?
We decided to put this to the test by adding Fernando Torres to EVERY team and seeing the results. Here are his stats for the 2014-2015 season added to every other team: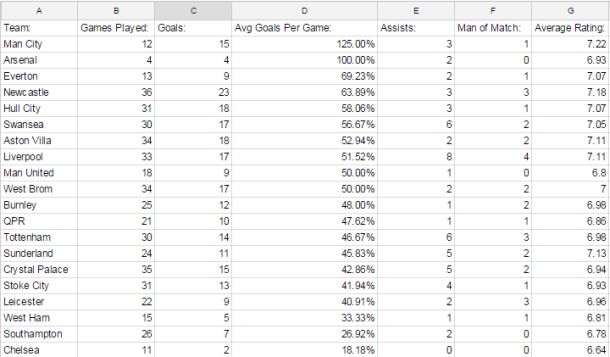 So the best team for Torres would be Man City. Sure he'd be a benchwarmer for half the season but he still reveled in that side, scoring a whopping 15 goals in just 12 appearances – 4 of which were off the bench. He'd also be a great fit at Everton – and what a move that would be if Martinez snatched him from his Merseyside rivals and he performed well.
There's been a lot of criticism about Arsene Wenger and this would be another one – you sign a guy who scores in every game, and only play him in 4 of those games? Yikes. Interesting to see that returning to Chelsea would be the worst move for him – scoring just 2 goals in 11 appearances.
If you're wondering about those low West Ham stats it's because he barely played due to injuries. In the course of just 8 months, he managed to get a groin strain, strained wrist, twisted ankle, dead leg, broken arm and sports hernia – all of which occurred during training.
He also had a respectable 17 goals in 34 games for West Brom. However that season is particularly notable because West Brom actually ended up 17th – barely above the relegation zone. However in that same season he led them to the Capital One Cup, scoring the key goals in a 3-2 aggregate victory over Man Utd in the semi finals, and scoring the lone goal in their 1-0 victory over Chelsea in the final. As if that wasn't enough – WBA won the FA Cup over Newcastle 1-0 – with Torres scoring the 85th minute winner.
Hope you've enjoyed reading, and stay tuned to SportsBettingTips.org for more simulations as the January transfer window approaches. If you're looking for more simulations, feel free to read what happens when Lionel Messi joins Clyde Football Club.
Follow @SBTSportBetting