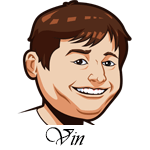 Follow @SBTSportBetting


[Get Exclusive Tips on our Patreon, Ad-Free
]
The 2016 MLB season is drawing close so it's time for us to take a look at the 2016 Win Totals. Baseball has the longest season of any of the major sports so in a lot of ways it's easier to project over a full season than it is game to game. Streaks can happen, but it all tends to even out over the course of 162 games. The sample size is big enough that we can reasonably project how players and teams will do.
This could be an interesting years with many teams looking to bottom out and rebuild like the Houston Astros recently did. There will multiple teams that lose 90+ games that could help provide a bump for the good teams. The division between the haves and have nots could be large this season and that makes for interesting future betting. We'll go through the teams one-by-one with their current win total odds at Bovada and pick our best bets.
Arizona Diamondbacks
Over 82.5 -115
Under 82.5 -115
The Diamondbacks were one of the busiest teams in the offseason as they gave up their entire farm system and all their money for Zack Greinke and Shelby Miller. That's a big upgrade to the rotation, especially when you consider they are about to get a full season out of Patrick Corbin. This team won 79 games last season so you'd think they'd easily improve three wins this year, but the cost may be too much.
They gave up Ender Inciarte to get Miller and he was their third best offensive player last season. That will be the problem with this team this year as their offense is basically Goldschmidt, Pollock and a bunch of scrubs. I don't feel comfortable betting them to outperform this number, but the chance is there.
Atlanta Braves
Over 66.5 -115
Under 66.5 -115
This is going to be one of the worst teams in baseball this year. I want to say under, but there is just enough exciting prospects on this team to make 70 wins seem possible.
Baltimore Orioles
Over 79.5 EVEN
Under 79.5 -130
Some projection systems hate the Orioles this season with PECOTA have them at just 72 wins. That's a huge drop-off for a team that underperformed last year and ended up with 81 wins. That seems like the number they'll be around again this year, barring a little luck and massive turnaround from starters.
Boston Red Sox
Over 86.5 -130
Under 86.5 EVEN
If you take the offense that they had in the second half of last season and combine it with an improved bullpen and upgraded rotation led by David Price, you have a very good baseball team. That's what the Red Sox are hoping for this season and 88-90 wins seems very doable. Over 86.5 is very doable.
Chicago Cubs
Over 92.5 -130
Under 92.5 EVEN
The highest win total of any team and it may not even be high enough. This Cubs team is projected to be really, really good. A full season of the Bryant/Rizzo combo, Addison Russell at short, new additions of Ben Zobrist at second and Jason Heyward in right. This team had the third best record in baseball last year and added two superstars. The question isn't over 92.5 wins, it's is this the year?
Chicago White Sox
Over 80.5-115
Under 80.5-115
This is a team that earlier I had pegged for a resurgence and toppling their total. Then Adam LaRoche retired because they wouldn't let his son in the clubhouse and the whole team got mad. Who knows how this plays out, but I feel less confident betting on an unhappy team.
Notable Upcoming Bets:
Cincinnati Reds
Over 70.5 EVEN
Under 70.5 -130
Another bad team with intriguing pieces that scare me out of betting the under. They have some nice pitching prospects and Joey Votto. Not counting on them having over 90 losses.
Cleveland Indians
Over 84.5 -130
Under 84.5 EVEN
Our best bet is over 84.5 wins for the Indians. Every projection system loves them to win the division and we do too. The starting pitching is the deepest and most strikeout heavy in the league. They were a completely different team last year after calling up Francisco Lindor and they get a full season of his glove this year. Look out for the Indians.
Colorado Rockies
Over 70.5-115
Under 70.5-115
Of all the teams projected for 90+ losses, I like this one to beat the number the best. That doesn't mean I'm betting on it.
Detroit Tigers
Over 81.5 -130
Under 81.5 EVEN
I feel very confident that the Tigers will win 80, 81 or 82 games this year. In other words, no thanks.
Houston Astros
Over 87.5 -115
Under 87.5 -115
I feel very confident that the Astros will win 86, 87 or 88 games this year. In other words, no thanks.
Kansas City Royals
Over 85.5 -115
Under 85.5- 115
The ultimate projection vs. reality team is back for more. The last few years we've seen the Royals projected for a low win total and then outdo that number, going so far as to win the World Series last year. This year is more of the same as PECOTA has them at 76 wins and Fangraphs have them at 74. I'm on the side of the projections this year and going under 85.5 wins.
The loss of Greg Holland hurts, we saw a lot of career years from hitters last season and the rotation is it's typical uninspiring bunch. If the bullpen isn't able to repeat it's dominance, this team isn't doing what it's done again. The World Series hangover is real.
Los Angeles Angels
Over 81.5 -115
Under 81.5- 115
How good do you think Mike Trout is? I mean, he's really good and the best player in baseball, but is he enough to carry a 70-win team to more than 81.5 wins? I say no and under 81.5 wins.
Los Angeles Dodgers
Over 88.5 -130
Under 88.5 EVEN
Seems about right.
Notable Upcoming Bets:
Miami Marlins
Over 79.5-115
Under 79.5-115
The Marlins are a really hard team to project this season. A healthy Giancarlo Stanton and Jose Fernandez is a big help for them, but is it 10 wins better than last season? They have young players, but do they all make the leap at the same time? Do any of them? Staying away here.
Milwaukee Brewers
Over 69.5 -115
Under 69.5 -115
This might be an under play simply because of the division they play in. They have to play a lot of games against the Cubs, Pirates and Cardinals who were the three best teams in baseball last season and should all be very good again. This is a rebuilding year for them and they plan to be bad, but that bad? I don't know.
Minnesota Twins
Over 78.5 -150
Under 78.5 +120
They definitely over performed last season with some great cluster luck. That isn't really sustainable and I could see them taking a step back this season. 78 wins seems about perfect though.
New York Mets 
Over 89.5 -150
Under 89.5 +120
The Braves and Phillies are expected to be two of the worst teams in baseball this season and the Mets play a lot of games against them. That could get them an extra win or two and push them to 90-91 wins, but at -150 this bet isn't worth the risk. It'll just be too close.
New York Yankees
Over 85.5 -115
Under 85.5 -115
The Yankees will blow out this projection, but I'm not sure which way. If things go right, the old guys hit and the starters stay healthy, they could be a playoff team. If things don't go right, this could be one of the worst Yankees teams we've seen in a decade. I truly don't know which way it'll go.
Oakland Athletics
Over 75.5-115
Under 75.5-115
This line seems way too low for me and over 75.5 wins feels very doable for this team. The only thing that worries me about Oakland is if they start off slow. A slow start could see them selling off some parts like they always do which makes this a riskier proposition than it seems.
Philadelphia Phillies 
Over 65.5 -150
Under 65.5 +120
This is going to be a bad team, possibly the worst in the league. They won 63 games last year and could hit that number again.
Pittsburgh Pirates
Over 86.5 EVEN
Under 86.5 -130
The Pirates have won 88 games in each of the last three seasons, but after losing A.J. Burnett, J.A. Happ, Joe Blanton, Joakim Soria, and Neil Walker this offseason the projections have them a bit lower. I don't agree with that and I like them to go over 86.5 wins. They added John Jason to play first with .300 hitting prospect Josh Bell waiting in the wings to take over if things go bad. They could add 10 strikeouts/game pitcher Tyler Glasnow to the rotation who could be the rookie of the year this season. Polanco hasn't hit his potential yet and McCutcheon is one of the best in baseball. This team still has a bright future.
San Diego Padres
Over 73.5 -115
Under 73.5 -115
One of the most disappointing teams last season gave up their closer Craig Kimbrell and their best hitter in Justin Upton. Another 88-loss season seems likely.
San Fransisco Giants
Over 89.5 -115
Under 89.5 -115
This is a team that has won the World Series in every even year this decade. They had a great team last season that struggled with injuries. They should be very good again this year. They could even win the World Series.
Seattle Mariners 
Over 82.5 -115
Under 82.5 -115
This is one of my favorite bets out there. They upgraded the bullpen and the rotation, but more importantly they greatly improved their outfield defense. Seattle's outfield is one of the most spacious in baseball and being able to cover the whole thing is key to their success. Nori Aoki and Leonys Martin should do a good job of covering a lot of ground. If Tajuan Walker breaks out like people seem to think he could and become that dominant starter behind King Felix, this team could be very interesting. Over 82.5 wins.
St. Louis Cardinals
Over 87.5 EVEN
Under 87.5 -130
It really feels as if the Cardinals run of devil magic is going to run out this season. They lost Heyward and John Lackey to the Cubs. They are getting Adam Wainwright back, but I don't know. It feels like their luck should be running out. I'm not ready to go under here, but I am watching this team.
Tampa Bay Rays
Over 81.5 -115
Under 81.5 -115
Pitching and defense! PECOTA actually predicts the Rays to win the East thanks to their pitching and defense. It would be unexpected, but not surprising. The Rays build very solid teams every year and they manage to steal wins thanks to their outstanding pitching and defense combos. I like them to go over 81.5 wins, but winning the East seems a bit much.
Texas Rangers
Over 84.5 EVEN
Under 84.5 -130
Conventional wisdom would have the Rangers a bit higher with a full season of Cole Hamels and Yu Darvish coming back from injury, but the projection systems have them falling off from their 88-win season of last year. This is a team like the Yankees that I can see winning 88 or I can see them winning 78. The total of 84.5 will be missed, I'm just not sure which way.
Toronto Blue Jays 
Over 87.5 -115
Under 87.5 -115
The crazy, homer happy offense is still intact, but the rotation is a big question mark. JA Happ and RA Dickey are penciled into the rotation after Marcus Stroman, Jesse Chavez and Marco Estrada. There is a lot of risk in that staff with older players and players with shaky track records. The same can be said about the bullpen. I like the Jays to be near the top of the standings this season, but 88 or more wins could be tough this year. They are an injury or two away from being last year's Tigers.
Washington Nationals
Over 89.5 -115
Under 89.5 -115
The Nationals have some of the best talent in all of baseball, but there is just something about them that makes you think it won't work. Last year was a disaster with the team underperforming and Jonathan Palpebon picking dugout fights with Bryce Harper. They brought in Dusty Baker as manager who "knows how to win", but he's 66 years old and was out of touch with baseball ten years ago. The modern game has passed him by and I think this is going to go badly. Betting under 89.5 wins and hoping for more Harper interviews.
---
Best Bets:
Chicago Cubs Over 92.5 Wins
Cleveland Indians Over 84.5 Wins
Los Angeles Angels Under 81.5 Wins
Seattle Mariners Over 82.5 Wins
Tampa Bay Rays Over 81.5 Wins
Good Bets:
Boston Red Sox Over 86.5 Wins
Kansas City Royals Under 85.5 Wins
Oakland Athletics Over 75.5 Wins
Pittsburgh Pirates Over 86.5 Wins
Washington Nationals Under 89.5 Wins
Bet baseball futures at: Bovada
Follow @SBTSportBetting