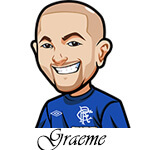 A few tournaments on the go this week but I'm getting to these late so will just cover the Wells Fargo Championship on the PGA Tour.
This one is at Quail Hollow, host of the 2017 PGA Championship which Justin Thomas won. Not sure how he will do this week. Price wise I just don't think he is worth a bet.
Must admit I was hoping that Will Zalatoris would be a play for me. Ran the numbers and just didn't work out for this course sadly. Like what he is doing at the moment and was hoping to be able to advise him.
Big one for Bubba – will be interesting seeing if he can get in the mix here.
I'm only doing three plays. I split all my bets to win and top 5.
I do it on a 1-5u confidence system.
If I say 1u on a player, then you'd bet 0.5u on them to win, 0.5u on them to go top 5.
Go with the smaller one first – 1u on Patrick Cantlay at +3300 odds. I mean look Cantlay isn't playing great at the moment that's for sure. I just feel this course suits him and I was monitoring his price all week. He was +2500 and +2800 and that wasn't enough for me. +3000 was my cut-off. He moved to +3300 so it is all systems go. Just a small play though.
I've got two 2u plays as well. Nothing bigger than that unfortunately. One of those tournaments with a lot of top golfers – many of whom you can justifiably will say will be in contention.
I'm going with the +3500 Max Homa and the .
Homa won here back in 2019 and so we know based on that, he can perform on this course. Going by the metrics for this course and his performance this season I feel he is worth a punt. Good form incoming as well.
I like Niemann as he is playing decent golf and solid and I think will fit in here. This one you may wish to consider Top 20 instead or something but I feel like taking a risk with him.