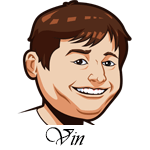 Follow @SBTSportBetting
A 1-1 record last night.
Whew, that was a long one. It seems like weeks ago now, but playoff Jon Lester really showed up and Kyle Freeland did great on short notice. That pretty much killed any chance of our over, despite the game going 13 innings. I said I wasn't going to delve two deep into last week stats or anything, but maybe I should've for this one. The Cubs offense looked as terrible as it has for the past few weeks and they just had no chance of scoring. Good for us since we had the Rockies. They were a slight underdog at +122 so a slight profit for us last night.
Just a quick note about the record, I noticed an error in my spreadsheet that wasn't adding correctly. The units won was correct, but the numbers were wrong. I updated that to show that the system was 54.5% for the year.
It's the Yankees and Athletics tonight. It's looking like the Athletics will be bullpening this game while the Yankees will go with Luis Severino. He had a rough time in last year's AL Wild Card game as he didn't even make it out of the first, but that was then and this is now. He's a much better pitcher now.
[text-blocks id="137″ slug="email"]
Oakland Athletics vs. New York Yankees Betting Tips:
I really don't think this will be like the last two day's of baseball. Those games were pitching match-ups without a lot of run scoring. These offenses aren't that, they are two of the very best in the league. Even with all the Yankees injury issues this year, they still had a 111 wRC+ that was best in the AL and Oakland was right behind them at 110. These were also the top two homerun hitting teams in the AL as well, the Yanks at 267 and Athletics at 227. I am thinking that's what we see here today.
Going all bullpen is a good idea for the Athletics in this one. Their starters got them through the season, but it's the bullpen that got them in this position. They have a 3.37 ERA/3.91 FIP/4.12 xFIP bullpen line on the year. That ERA is one of the best in baseball, but the FIP and xFIP show them as more middle of the pack. They had a really low batting average on balls in play this year which could come back on them here. This Yankees offense is tough and this ballpark has extremely short porches that could see some homeruns hit. I'd like this team a lot more if this game was in Oakland.
Luis Severino goes here and I know he's one of the best pitchers around, but I really don't quite get what is going on with him. He was lights out for the first three months of the season, but since then his numbers have been weird. Starting on July 1, his HR/9 has jumped to 1.5, his batting average allowed is .284, and his BABIP is at .354. Everything else looks the same, but those are weird trends. He looked good in the final month, but he did have one start where he allowed 5 ER in 2.2 innings. The opponent? Oakland.
Bet Yankees/Athletics Over 8.5 Runs
It's really no fun to pick the Yankees here, but it's also pretty hard not to pick the Yankees here. They have Severino, the Atheltics don't. It may only be slightly, but they do have the better offense. They have home field advantage.
What it comes down to though is the bullpens. The Athletics will lean on it because that is their strength. Well, the Yankees is better. A lot better. They are top three in all pitching categories with a 3.38 ERA/3.33 FIP/3.38 xFIP. They are solid and no matter what happens with Severino, I think they finish this one strong.
Not really a great value here, but it you are looking to bet the winner; take the Yankees.
Bet Yankees -180
Follow @SBTSportBetting