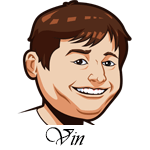 Follow @SBTSportBetting
Tonight starts the NBA HORSE tournament. The tournament will be single elimination with two brackets of four players. Each bracket will feature two current NBA players, one WNBA player, and one retired NBA player. While I would've liked to have seen some bigger stars like LeBron James or Steph Curry in this one, it should still be a lot of fun and the tournament could be a ton of fun to watch.
The good news is that Trae Young can shoot from anywhere on the court and Zach LaVine, based on what we've seen from him in dunk contests, is definitely the kind of player who will come up with some creative shots. I wouldn't count out Allie Quigley either. We don't know what kind of shooting shape Paul Pierce is in, but in his day he would've been one of the top picks for a tournament like this.
A complete list of players and their first round opponents:
NBA HORSE Challenge matchups
Group 1: Trae Young vs. Chauncey Billups
Group 1: Tamika Catchings vs. Mike Conley
Group 2: Zach LaVine vs. Paul Pierce
Group 2: Chris Paul vs. Allie Quigley
The favorite for the finals is Trae Young vs. Chris Paul which is probably what the NBA is hoping for, but HORSE is a weird game and is a game that is ripe for upsets.
The rules state that a player must describe his or her shot attempt before shooting. If they make it, their opponent must make the same shot or receive a letter. There is a no dunking rule so that's a big advantage that Zach LaVine won't have. That's probably a good thing.
Notable Upcoming Bets:
The current betting odds at Bovada for the NBA Horse Challenge:
Trae Young +200
Chris Paul +285
Zach LaVine +400
Mike Conley Jr. +450
Paul Pierce +600
Chauncey Billups +900
Allie Quigley +1100
Tamika Catchings +1600
NBA Horse Challenge Betting Tips:
With all due respect to her game, I don't get why Tamika Catchings is in this tournament. She has a career .415 shooting percentage from the field and shoots just .355 from three-point land. Unless she has some real trick shots up her sleeve, I can see her going out easy. She faces Mike Conley in the first round so I am thinking Conley gets to the semi-finals.
Trae Young against Chauncey Billups is another match-up that I thing the winner is rather easy to figure out. Billups is 43 years old and was never known for his elite shooting. Trae Young is one of the best shooters in the game and can make it from anywhere.
In the other bracket, I'm less sure. I really think Quigley has upset potential and I just don't see Chris Paul as a guy who has some crazy trick shots up his sleeve. He's an intense player and I don't think he spends a lot of time practicing the kind of shot that it's going to take to win this thing. He's a competitor so I can see him winning his first round match-up, but him against a Trae Young would just be unfair.
At these odds, I think the best bet is to go with one bet on Trae Young and another 1/2 unit bet on Mike Conley. If Trae wins, as he should, you win. If Conley is able to upset him and go on to the victory, you profit. If you really want to get crazy, throw a 1/4 unit on Quigley.
Bet 1 unit on Trae Young
Bet 1/2 unit on Mike Conley
Bet 1/4 unit on Allie Quigley
Follow @SBTSportBetting