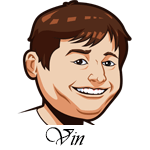 Follow @SBTSportBetting
A 1-1 day yesterday that really should've been a 2-0 day.
The Astros had a 5-2 lead heading into the 8th inning. This is the best team in baseball with one of the most well rested bullpens in the game thus far and entering the top of the 8th the Astros had a 95.5% win probability according to Fangraphs. Then Brad Peacock allowed two homeruns and the game was tied. The Rangers took the lead in the 10th, but the Astros got the first two runners on base in bottom of the 10th. I dreamed for a second of a homerun that would give us the win, but it was not to be.
Thankfully, we had the Nationals as well who took care of business. Max Scherzer pitched seven innings of 2-run ball with 11 strikeouts. This guy is just dominating. The Nationals offense took awhile to wake up, but once they did they distanced themselves enough for us to grab the win.
Weather was a huge issue in the MLB yesterday with multiple games being postponed due to rain. That includes a Corey Kluber start that we tipped so we'll get a second run at that one today. Let's get into the tips.
[text-blocks id="137″ slug="email"]
Toronto Blue Jays vs. Cleveland Indians Betting Tips:
Looks like the weather didn't change actually. POSTPONED!
Nothing changed here, but the weather so I'll just quote my post from yesterday here.
I guess I am just going to lay all the runs today. Corey Kluber is on the mound for the Indians and he has also picked up where he left off last season. A 1.57 ERA/2.33 FIP to start the year and he did well in his lone start against the Jays last season. He�s going against Jaime Garcia who should be hit hard by the Indians. Throw in the Indians awesome bullpen and this isn�t a hard pick for me.
Bet Indians -1.5 at: [text-blocks id="87″ slug="bet-mlb"]
Milwaukee Brewers vs. New York Mets Betting Tips:
The Brewers picked up Jhoulys Chacin to add to help solidify their rotation and thus far he has had a 6.59 ERA/6.55 FIP through three games. He goes against Noah Syndergaard who has had huge strikeout numbers early, but has allowed a few runs in his starts. More worrisome(?) to me is that he's only lasted about 5 1/3 on average through three starts. He gets a ton of strikeouts, but he uses a lot of pitches to do so.
So, why is the total on this one only 6.5 runs? Chacin has been a gas can early and Syndergaard should give way to a bullpen that the Brewers have hit well in this series. This should be a good one today and I am taking the over.
Bet Brewers/Mets Over 6.5 Runs at: [text-blocks id="87″ slug="bet-mlb"]
Baltimore Orioles vs. Boston Red Sox Betting Tips:
I promise that I'm not just going to lay the runs whenever there is an elite pitcher on the mound this season, but Chris Sale against the Orioles is too good to pass up. The Red Sox offense has been great in this series and Sale should be up to task today. I like Dylan Bundy, but he's pitching way above expectations while the Red Sox offense is clicking right now and I think they'll get to him. Just going to lay the runs here and hope for the kind of game Sale is capable of.
Bet Red Sox -1.5 at: [text-blocks id="87″ slug="bet-mlb"]
[text-blocks id="110″ slug="middle-ad"]
Follow @SBTSportBetting