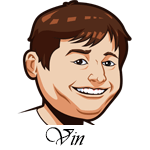 Follow @SBTSportBetting
A tough 0-2 last night.
It was definitely a long shot to go with Darby Allin yesterday, but the odds were just too juicy to pass up. Alas, he didn't win and AEW went all chalk on the tournament. I was going to do some bets on the ratings for this week as well, but they have been so volatile with all that is going on in the world that I didn't feel comfortable doing so. As always, if you are interested in pro wrestling betting then be sure to check out the Going Over: Bet Pro Wrestling podcast.
We also took the loss in CS:Go when Bad News Bears were unable to take a game in their match-up against MIBR. The first game had a final of 12-16 so it was close, but they just got dominated in the second game. MIBR has been inconsistent of late, but they were solid yesterday.
In football news, the story of the Green Bay Packers drafting QB Jordan Love while they still have Aaron Rodgers is not going away. This pick happened on Friday, but almost a week later it is still being discussed. The man who Rodgers replaced, Brett Favre, was one of the people stoking the fire:
"I don't know this for certain, but I guarantee you, it's got the wheels turning in Aaron's mind. If that's the case, then that means there's a chip on his shoulder toward the organization that otherwise was not there. All he needs is a reason other than this reason to expedite that."
The Packers were a team that was one win away from the Super Bowl last season, but the moves in the draft seem to be more geared towards the future than adding weapons for Rodgers. I'm not sure if I can see him being traded this year, but it might not be all that shocking if he is eventually moved. The script is already there from when the Packers replaced Favre.
Notable Upcoming Bets:
CS:GO ESL One: Road to Rio Betting Tips:
Gen G.vs. Cloud 9: Gen G has looked solid of late with wins against 100 Thieves, but this is a rather inconsistent team. They lost a map to Triumph, which they had no business doing and I am struggling to trust them in this match-up. While Cloud 9 has looked very good of light. They beat Evil Geniuses and have really turned into one of the top North American teams. They are even money to win this one as most sportsbooks see this as a pick'em, but I think there is great value in Cloud 9 to win here.
NFL Madden 2020 Sims Betting Tips:
You can watch these at https://www.twitch.tv/livefootballsims.
Philadelphia Eagles at Pittsburgh Steelers: The Eagles are the top team in this game in terms of ratings and they are a slight -3 favorite here. I don't honestly have a lot of faith in the virtual Steelers and I think Eagles is a great pick here. The Eagles have the great defense and the Steelers offense just doesn't have the weapons to beat it.
Follow @SBTSportBetting