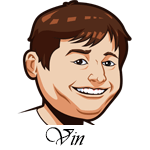 Follow @SBTSportBetting
April is always a tough month for picking MLB games. The data just isn't there, the weather isn't ideal for baseball and some guys just aren't ready for the season. I tend to veer towards the unders, but in this homer heavy era that is a risk in itself. You have to do your best with the information you have and go from there.
Yesterday we were 0-2 and both games weren't close. I expected a big game out of Zach Davies, but he gave up too many homers and the Brewers lost by four. A little bit of homerism shining through there? Possibly, but Davies had a strong year last year and Miles Mikolas was a question mark heading into the game. Now we know.
The Athletics and Rangers did things that I thought they would do, they just didn't go over. The total was nine and the final score was 3-1, but the Rangers went 1-for-15 with runners in scoring position and the teams combined for 18 left on base. The opportunities were there for these teams to score more, they just didn't take them and that's what April baseball is in a lot of ways.
So, 0-2 last night. That sucked, but these things just happen sometimes. 6-7-1 is not where I want to be, but not bad and there is still a heck of a lot of baseball to be played. Like all these games tonight.
[text-blocks id="137″ slug="email"]
St. Louis Cardinals vs. Milwaukee Brewers Betting Tips:
I'm going back to the well on the Brewers. Chase Anderson is on the mound and he actually is their best pitcher. He threw six shutout innings on Opening Day and played well against the Cardinals last season. His last start of 2017 was seven innings of one-run ball against them.
In his six games (five starts) last season, Jack Flaherty had a 5.27 FIP with 1.7 HR/9. While I do think he is a better pitcher than that, this is a classic #1 starter vs. #5 starter match-up and you have to go with the top guy in that game. The Brewers should hit him today and make-up for yesterday's home loss.
Bet Milwaukee -138 at: [text-blocks id="87″ slug="bet-mlb"]
Baltimore Orioles vs. Houston Astros Betting Tips:
This is another #1 starter vs. #5 starter match-up. We all know Justin Verlander, but I am a pretty big baseball fan and I think this is the first time I've heard of Mike Wright Jr. Looking at his stats, he's nothing special. The projections at Fangraphs have him at a 4.98 FIP and for his career he's given up 1.6 HR/9. That is not good when facing this offense at home. I just don't see how the Orioles compete in this one. So much so that I'm laying some runs.
Bet Astros -1.5 at: [text-blocks id="87″ slug="bet-mlb"]
Colorado Rockies vs. San Diego Padres Betting Tips:
The Rockies rocked the Padres 7-4 last night and I expect more the of the same here today. The Padres are calling up Tyson Ross to start this one for them and he is not someone I trust. He's been on the rehab from thoracic outlet surgery and last season with the Rangers posted a 7.71 ERA over 49 innings. He looked decent in the spring, but this is not a good match-up to test if you are truly up to snuff. The Rockies offense is dangerous and I think they hit tonight.
The Padres should also be without Will Myers which is a blow to their offense and with Kyle Freeland, the second year lefty going for the Rockies, on the mound this feels like a great value.
Bet Rockies -109 at: [text-blocks id="87″ slug="bet-mlb"]
[text-blocks id="110″ slug="middle-ad"]
Follow @SBTSportBetting