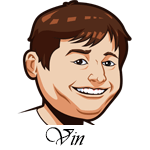 Follow @SBTSportBetting
The playoff picture got a bit clearer in the NBA last night as the Cleveland Cavaliers absolutely dominated the Boston Celtics in Boston. This felt like a statement game as so many people have been worried about the Cavaliers as we head into the playoffs, considering them vulnerable to a team like Boston or Washington, but after that performance there is little doubt who the most talented team in the Eastern Conference is. There are still worries about the defense, but there is no doubt that when this team is on that there are really only one or two teams that have a chance against them.
Cleveland is off tonight, but Boston will be back at it against the Atlanta Hawks. I'm thinking that they might have some frustrations over last night's game that they'd like to get out. With the way Atlanta has been playing as of late, I think they'll be able to do just that.
MLB Betting Tips:
The hero of the 2017 World Baseball Classic is in action tonight as Marcus Stroman starts for the Blue Jays against the Rays. Stroman has been teasing that he could be an elite pitcher in this league and this could be the year. I like the match-up against the Rays who aren't a great hitting team by any stretch of the imagination. The Jays always kill lefties and Blake Snell is a young lefty. He's got great potential, but he's still a lefty. I have to love this match-up for the Blue Jays -126.
It is very early, but this Mets-Braves series hasn't featured much run scoring thus far. Neither team is really known for their outstanding offense and they have solid pitchers up and down the roster. Matt Harvey goes for the Mets and he looks to be fully recovered from his injury issues last season. When he's on, he's really tough and the Braves offense won't stand much chance against him. The Braves send Jaime Garcia, one of their top offseason acquisitions, who could give this offense trouble. We're taking the under 7.5 runs on this one.
Notable Upcoming Bets:
NBA Betting Tips:
The Milwaukee Bucks let us down in a big way on Tuesday as they simply failed to show up for the game against the Oklahoma City Thunder. They get another road game tonight, but with a slightly easier opponent in the Indiana Pacers. The Bucks have played well against Indiana this season and are currently ahead of them in the playoff race. I think that means that they will come into this one with a little more focus and be set to lock in their playoff future. You never know what you are getting with this Pacers team and the Bucks +4 should be able to capitalize.
Boston lost to Cleveland last night and now sits behind them in the race for the top seed in the Eastern Conference. They have a great chance to redeem themselves and get back in the race as they face the Atlanta Hawks tonight. Atlanta has really been in a complete free fall as of late and show few signs of righting the ship. It won't get any easier tonight and Boston -1 should get it done easily.
Follow @SBTSportBetting