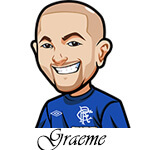 Man that WGC Workday was exciting.
So many opportunities last weekend. All good most of the weekend. After round 1 we we had Webb Simpson tied for first. We had the 125/1 Kisner in 3rd. Reed 2 strokes off the lead and Rory 3 strokes off.
Round 2 was similar. Webb a stroke off, Reed and Kisner 2 strokes off. Rory 5 off but a good position for him.
Then it all went to pot. Kisner dropped out with an insane 80 in Round 3 after going 67 and 69 the prior two days! Rory, Webb and Reed all had solid days but come Sunday they struggled.
Rory and Webb were at least able to get us small E/W cashes. Unfortunately due to dead heat rules it wasn't as much back as we'd normally get. Here's the betting slips: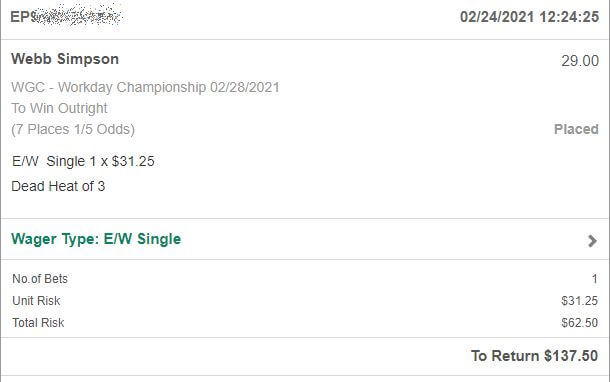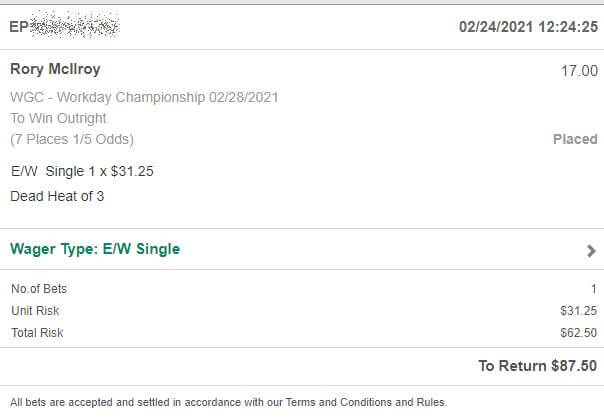 And if you placed the bets at BetOnline like I mentioned and got the Winner/Top 10 bets on then you also have Patrick Reed to add to the list. Alas I do not so that one will be a loss for me in the stats.
Made the WGC just about break even alas Puerto Rico and the Cologuard Classic tips were failures. Stricker was able to come in 3rd in the Classic so that was nice to see. Been awhile since I've tipped the Champions Tour so that gave me some confidence.
Arnold Palmer Invitational 2021 Betting Tips:
Rory is favourite. Not a surprise. I actually was ready to tip him for top 5, however I decided the money I was initially going to wager on him I'd put on Fitzpatrick instead. Here's the writeup on that:

$125 on Rory to Top 5
Honestly I was very tempted to back Rory to win here. He's that sort of player and he's someone where you can just get a strong vibe about him and that's what I am feeling here.
In saying that, he doesn't have the consistency right now about him I feel. He's been sluggish on the final rounds a fair bit. Honestly at about 8/1 odds I actually think he's a good price and I came into this looking to back him – but decided to just do top 5 instead.
So Rory is NOT a play for me this week.
Bets are at Bet365 due to top 8 E/W placing.
$250 on Matthew Fitzpatrick To Win & E/W:
Just a solid little pick in my opinion. Playing well, had good performances at this course. He looks like he is about to peak. I like Fitzpatrick a lot here. Also good results on Bermuda.
USA: +2500 at GT Bets
Everywhere Else: 22/1 at Bet365
---
And now 2 other picks at $62.50 each. I wanted to do 4 picks but no-one really jumped out at me enough.
Francesco Molinari to Win & E/W:
Happy to back him. Seen some solid form from him lately. Previous winner here. Nice price. Stands out on the metrics. He'll be winning again soon and could be here.
USA: +3300 at Intertops
Everywhere Else:28/1 at Bet365
---
Jason Kokrak to Win & E/W:
Playing well. Great form here.
USA: 40/1 at BetOnline
Everywhere Else:35/1 at Bet365
---
LPGA Drive On Championship: $30 on Lydia Ko to win and E/W. $20 on Stacey Lewis To Win & E/W.