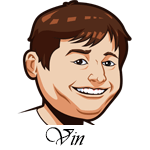 Follow @SBTSportBetting


[Get Exclusive Tips on our Patreon, Ad-Free
]
A 1-1 record last night.
The Indians won the game outright, but didn't cover the -1.5 as they won 5-4. The box score will show four earned runs for Corey Kluber, but Melky Cabrera definitely should've had a ball in the sixth that led to a three-run homerun. That's baseball. The annoying thing? The system liked the over, but I felt it liking Cleveland overs too much lately (a combination of bullpen's early performance and the park) and chose to ignore it.
The Dodgers and Rockies played a wild one. It looked like another disappointing Rockies day and another good one for the Dodgers until the seventh when the Rockies added four runs to take the lead. The Dodgers then tied it up in the top of the eighth on a Cody Bellinger homerun. The Dodgers then exploded in the ninth to give us the W.
Just a quick programming note that I'll be out of town from Saturday until Monday so no tips until Tuesday. It's time for my yearly family camping trip so won't be able to get anything done. When I stay at a hotel I'm more than willing to post some tips using the hotel Wi-Fi, but camping is a different story. I wish I could pre-write the tips which is kind of hard to do without lines for the weekend games. Rather than not give my best, I'll just be skipping the weekend.
Since that is the case, let's kick some butt today.
[text-blocks id="137″ slug="email"]
New York Yankees vs. Texas Rangers Betting Tips:
I was trying to stay away from laying the runs, but this one is just too good to pass up. Even without Aaron Judge, the Yankees offense is dangerous against lefties and they are coming off against a game in which they walloped the Rangers 7-3. This is a team that a lot of people are sleeping on right now, but I think this series against the Rangers will remind everyone exactly who they are. Masahiro Tanaka is a solid starter, but this one is all about the Yanks offense.
Mike Minor is one of my favorite lefties to target, the Yankees offense is great against lefties and the Yankees have the best bullpen in the game. Lay the runs.
Bet Yankees -1.5 at: [text-blocks id="87″ slug="bet-mlb"]
Tampa Bay Rays vs. Toronto Blue Jays Betting Tips:
I am writing this as if Blake Snell is starting today so if something changes, proceed with caution. Snell will be coming off the disabled list to make this start and prior to that he was one of the best pitchers in the American League. He has a 2.27 ERA/3.52 FIP on the year with big strikeout numbers.
The Rays have been playing good baseball of late and I really like the match-up with Marco Estrada. He has a 4.65 ERA/4.64 FIP and flyballs, homeruns have been a problem for him. I think the Rays are coming in hot with a much improved offense and will do well here.
Bet Rays -125 at: [text-blocks id="87″ slug="bet-mlb"]
Arizona Diamondbacks vs. Cincinnati Reds Betting Tips:
I know that Clay Buchholz isn't great or nearly as good as his numbers, but I really don't understand the line on this game. The Diamondbacks are great. They face Anthony DeSclalfani today who has a 2.28 HR/9 which helps make for a 4.98 ERA/5.70 FIP. He's been better at home, but he's not really good and this Diamondbacks offense is really good.
Buchholz has been lucky this year, but a 2.68 ERA/3.75 FIP over 10 starts is pretty dang good. The Reds offense has been about average this year and I think he does enough to get his team a win here.
Bet Diamondbacks -120 at: [text-blocks id="87″ slug="bet-mlb"]
Follow @SBTSportBetting