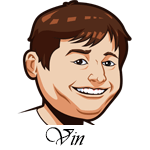 Follow @SBTSportBetting
It's been a long, hard road for Andrew Luck. He missed all of 2017 recovering from labrum surgery and the Colts really fell out of things without him. The road to recovery has been tough, but he's back now and will make his second preseason appearance tonight against the Ravens. He's one of those players that if he's healthy, you have to consider the Colts contenders; but if he's not, you can forget about them. He's that important. I hope for a full recovery from him and I think it'll be interesting to see what he does tonight.
Speaking of non-contenders, that's exactly what the Nationals now are that they are out of the playoff picture. They had a great season to get back in the conversation with a series against the lowly Marlins, but a 12-1 loss yesterday ended a disappointing weekend and they look dead in the water. The question now is whether they trade any of their stars before the August 31st waiver deadline. I hope they trade Bryce Harper. The playoffs would be so much more fun with him in them. Unless they are trading him to the Yankees, then forget it.
Notable Upcoming Bets:
NFL Preseason Betting Tips:
Jacoby Brissett will start for the game for the Colts and I liked what I saw of him in 2017. He threw for 3,000 yards with 13 touchdowns against seven interceptions. He's also acquitted himself well in the running game with four rushing TDs. I love the 1-2 punch of Brissett and Luck in the first half and I can see them building a big lead early. The fact that they are getting points at home is icing on the cake for me.
MLB Betting Tips:
Chris Archer hasn't been quite what the Pirates thought they were getting in his first three starts. He's allowed two or more runs in each start and hasn't made it past the fifth inning in any of them. He has a tough match-up today against the Braves that are red hot right now. The Braves will send Kevin Gausman to the mound which should mean a couple of runs on that side. I think the total on this one is way too low and I think this is a great place to grab the over.
Bet Braves/Pirates Over 7.5 Runs
The match-up of the night has to be the Indians with Corey Kluber on the mound visiting the Red Sox with Rick Porcello on the mound. Both of these teams are headed for the playoffs and this could be an ALCS preview. I don't like how that looks for Indians. Corey Kluber has been not quite as good as his Cy Young season last year and he faces the toughest match-up in the league for a right handed pitcher. I don't see that going well for him and I like the Red Sox here.
With Porcello on the other mound though, I see some runs coming the Indians way as well. These are two of the better offenses in baseball and eight runs is a small amount for them to put up. I like the over here as well.
Bet Red Sox/Indians Over 8 Runs
Follow @SBTSportBetting