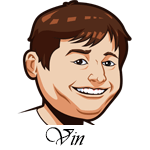 A 1-2 record last night.
We did our first two unit play of the season last year with the Reds and then Trevor Bauer went out and had his worst start of the season. His most hits allowed, his most runs allowed, and he matched his season total on homeruns. The Brewers hit him hard and they won. Brett Anderson allowed two homeruns for the Brewers, but that's not a big deal when there is no one on. Brewers won 4-2.
We got some regression from Trevor Bauer in that one while we were expecting it from Lance Lynn. Lynn instead pitched a gem and the Rangers were able to hang on for a 3-2 win. This one hurt as the Athletics had many chances to get this one. The worst was the bottom of the 9th when the bases were loaded with one out and the Athletics had Matt Olson and Matt Chapman due up. They both failed to do anything with the situation and the Rangers held on. Tough.
Our late pick was the Astros over the Angels and they absolutely mashed all over the Angels. They scored five runs in the first three innings and never looked back, en route to a 11-4 win. A fine end to a disappointing night.
Best Odds for MLB:
All tips based on the starting pitchers listed. Tips should be considered void if any pitching changes are made unless otherwise noted.
Boston Red Sox at Toronto Blue Jays Betting Tips:
Red Sox: Kyle Hart 5.72 ERA/5.37 FIP (ZiPS Projection)
Blue Jays: Chase Anderson 2.79 ERA/5.62 FIP
Kyle Hart has been smashed in his first two starts of the year for a 11.12 ERA/8.25 FIP. The Jays have been very good against lefties this season and the wind is blowing out in Buffalo. Boston's bullpen is bad and it looks like Toronto is going to absolutely roll here.
Chase Anderson isn't great, but he's never gone past the fourth inning in any of his starts. The Red Sox offense is not great right now and the Jays bullpen is very good. Easy pick.
Oakland Athletics at Texas Rangers Betting Tips:
Athletics: Sean Manaea 6.39 ERA/4.04 FIP
Rangers: Kyle Gibson 4.73 ERA/4.82 FIP
Gibson's strikeouts are way down this season and that has lead to him giving up more runs. Funny how that works. The Athletics remain a very good offense and I can see them bouncing back here.
I like Manaea here as a bounce back guy. His FIP is much lower than his ERA and he's running a high BABIP right now. The As defense is too good for that to keep up. The Rangers are one of the worst teams in baseball against left handed pitchers.
The system likes this one enough to lay the runs.
Cincinnati Reds at Milwaukee Brewers Betting Tips:
Reds: Luis Castillo 4.44 ERA/2.03 FIP
Brewers: Brandon Woodruff 3.23 ERA/3.13 FIP
Luis Castillo is one of my favorite pitchers and I think he can succeed here today. The things we said about the Brewers offense is still true today. They are still one of the worst teams in baseball against right handed pitchers. Milwaukee is also one of the highest groundball hitting teams in the league and Castillo has a 57.5% groundball rate on the season. He is a guy that is in need of some luck as he's currently running a .403 batting average on balls in play. That will come around and he'll have a solid start. I think that is tonight.
Runs will be hard to come by with Brandon Woodruff on the mound and the Brewers bullpen following him, but I like the Reds offense a lot more than the Brewers today and I think they'll be able to get enough to get Castillo the win.
Best Sportsbook To Bet MLB:
Register an Account.
All betting odds and props will now be viewable under the event listing.
You can deposit to BetOnline via over 20 different options such as credit card.