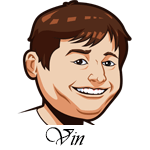 Follow @SBTSportBetting
An 0-2 record last night.
The Diamondbacks outhit the Giants, but a second inning two-run homerun by Steven Duggar made for all of the scoring in this game and that was it. This one hurt as Patrick Corbin had the kind of game I was expecting out of him, but the offense just did him no favors. They got Chris Stratton in trouble early, but he got out of it and that was it. Tough.
Your guess is as good as mine as to what happened to the Blue Jays. They got shellacked by the Orioles in this one. Sam Gaviglio is now in never again territory for me. I didn't believe in him, I gave him some chances and he proved my original thoughts correct. Get out of here, Sam.
Only a couple things popped out on the schedule today as we're reaching the point in the season where the data is pretty right on for a lot of these match-ups.
[text-blocks id="137″ slug="email"]
Seattle Mariners vs. San Diego Padres Betting Tips:
The data shows that the Mariners should win here, but I am not picking this because of the data. The Mariners have to win this game and the one tomorrow if they hope to have any chance of the playoffs. They are now 4.5 games back of the Athletics and even if the Astros do them some favors in that series, they need to win games to get back into things. I think the team knows that and I think they show up big time for this one.
Felix Hernandez is having a rough season with a 5.64 ERA/5.03 FIP, but so are the Padres. They have just a 81 wRC+ against righties this year and are coming in even colder than that.
With Jacob Nix on the mound, I like the Mariners offense quite a bit here. It's a limited sample as he's only 22, but it definitely feels like he was called up a bit too early. He doesn't even have 100 innings above Single-A and the strikeouts haven't been there. Seattle is filled with veteran hitters who I think hit him well today.
Bet Mariners -124
Arizona Diamondbacks vs. San Francisco Giants Betting Tips:
If at first you don't succeed, try again. That's exactly what I'm doing here as I go back on the Diamondbacks for this one.
The same things I said yesterday are true today. The Giants have just an 88 wRC+ against righties on the year and are ice cold coming into this one with a 45 wRC+ over the past fourteen days. That's not good. Clay Buchholz has a 2.25 ERA/3.39 FIP on the year and I think he'll handle the Giants.
This isn't a great match-up for the D-Backs with Madison Bumgarner on the mound, but they have hit lefties well all season long with a 104 wRC+. MadBum hasn't been quite the guy that his reputation suggests since coming back from injury.
This should be another low scoring affair, but I think that favors Arizona tonight and they grab the win.
Bet Diamondbacks -110
Follow @SBTSportBetting