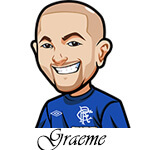 Follow @SBTSportBetting
The SPL season got off to a bang today. Celtic thumped St. Johnstone 7-0.
That one was frustrating. When I glanced at it yesterday my thought was "Celtic will hump them". But it's always so tricky backing a team to win by a handicap. In hindsight however, that's one that I certainly missed and am regretting it.
We had Motherwell to beat Livingston but unfortunately that one ended 0-0. I haven't had a chance to watch that one yet.
Quick thing I want to mention if you are interested in betting on the Scottish Premier League – one excellent resource is Modern Fitba. I've used them previously when doing tips and mentioned their Twitter on here before. They now have a Patreon set up of which I am a tier 2 subscriber. Looking forward to that helping me over the season.
For today we'll cover the MLS games taking place on August 4th, 2019. Well two of them. Minnesota United vs Portland Timblers should be a belter of a game but after analyzing it, I can't pick anything. Should be a good intriguing game though. One of those that will be fun to get into the tactical analysis afterwards.
DC United vs Philadelphia Union Betting Tips:
An interesting one. Philadelphia Union are currently top of the Eastern Conference with DC United snapping at their heels in third place.
Philadelphia come into this one on the back of some poor form and some really bad away form. DC Untied meanwhile have also been stuttering a bit and have failed to find the net in their last two games.
Their issue is struggling to finish at the moment. They can create the chances but really struggle to get them on target. That's something they need to improve upon.
I can see these two teams canceling each other out. If DC United get the firing boots on then so be it but there really isn't much lately to suggest that they can do that. Philadelphia are more than a match for them and would also be happy with the point here I expect.
(Odds on this page are correct as of 2019/08/03 3:55:36 PM EST but are subject to change)
Seattle Sounders vs Sporting Kansas City Betting Tips:
Seattle are currently 2nd in the Western Conference although have a lot of ground to make up on LAFC. It's also quite close for the playoff race there. Sporting KC need a couple of wins and they would be in the playoffs. As of this writing, they are 10th and top 7 is in the playoffs.
Seattle come into this on a solid run of form and they bounced back strong after that loss at home to Portland. Sporting KC have lost their last two against New York City and Dallas.
Last time these two played, Sporting KC got the nice 3-2 win with a hat trick by Johnny Russell.
Hard to see past Seattle here. In saying that, Raul Ruidiaz is looking like he might still be out so we'll go with a small play.
(Odds on this page are correct as of 2019/08/03 3:55:36 PM EST but are subject to change)
Follow @SBTSportBetting