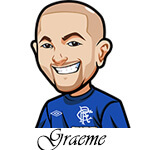 Follow @SBTSportBetting
Hope everyone is having a good weekend!
I'm up in Toronto for the weekend with the family and am unfortunately going to miss the kick off to the UK domestic league season which is gutting.
I did manage to catch the highlights of the Reading vs Derby game. That was a good one with Lawrence scoring a goal in injury time.
Nice to see Lampard get off to a winning start and what a great finish for him. Good that his players will fight do the death considering a draw is something they would probably be happy with.
Right my daughter is going to be awake soon and demanding we go downstairs for the hotel breakfast – always her favourite thing about these trips. So let's jump knee deep into some stats and get some soccer tips going: Had some good luck with the Brazilian Serie A recently so I think we will stick with that for the time being.
Brazilian Serie A Betting TIps: Sao Paulo vs Vasco da Gama
Sao Paulo go into this one second in the league just two points behind Flamengo, so a win is crucial for them.
Soa Paulo have a very tight defense conceding less than a goal a game on average and are in form. Their home performances are very solid and they've got a top 5 goalscoring record in the league.
Vasco are in a respectable position in the league however it is mostly based on their home form. In their 5 away games they just haven't looked too good at all. Worse is they have a fairly leaky defense and just can't score away.
Sao Paulo have been quite sloppy at home but I like them to have a professional performance here. Their ability to cover the handicap isn't too solid so you may wish to back them in a double instead but I'm going to do a small play on them having the ability to do that.
(Odds on this page are correct as of 2018/08/04 9:04:49 AM EST but are subject to change)

Brazilian Serie A Betting TIps: Parana vs Ceara
A bottom of the table clash between these two, however I think Parana have the solid enough home performances going on that they can squeak this one.
They generally perform good at home and of their 8 goals scored, 6 were at home. Compare that to Ceara who have only scored 3 on the road this season.
Paranas defensive record is woeful overall but a lot of that is away with just 8 conceded at home in 8 games. Ceara – similar to Parana – really struggle to score and I think that is a good sign for Parana.
Parana are just 2 points ahead of Ceara at the bottom of Serie A. They seem to be making the most of their home performances however and I feel the price is right. I'd probably rate them at 1.80 or 1.90 so I think we've got value at 2.00 odds.
(Odds on this page are correct as of 2018/08/04 9:04:49 AM EST but are subject to change)
Follow @SBTSportBetting