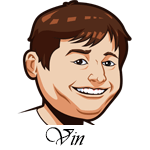 A 1-1 record last night.
The Astros rolled all over Madison Bumgarner last night as they sent him packing in the fifth inning with 7 runs scored on him in 4.1 innings. Jose Altuve, Carlos Correa, and George Springer all homered off of him and that was all the Astros would need. It felt weird to pick on Bumgarner for his third straight start, but it turns out it was well deserved.
Our other pick was the Brewers and their offense just could not get it going. The good version of Giolito showed up, but the Brandon Woodruff was just as good. This game was 2-2 at the end of six when the White Sox managed to score one that would be enough for the win. This was especially tough when the run was unearned thanks to a throwing error by Eric Sogard.
I am going to give the larger system a shot starting today. I would normally wait until we had more data on the season, but we're 20% into the season for a lot of teams and it's time we account for that. I am still going to be using 2019 stats for the starters for the most part, but I am now taking left/right batting splits as well as recent bullpen performance into account with the tips. I am still not ready to go multiple units on any picks though.
That said, it is looking good and I'm excited to see what the results will look like going forward.
Best Odds for MLB:
All tips based on the starting pitchers listed. Tips should be considered void if any pitching changes are made unless otherwise noted.
Minnesota Twins at Pittsburgh Pirates Betting Tips:
Twins: Randy Dobnak 1.59 ERA/2.90 FIP (2019)
Pirates: Trevor Williams 5.38 ERA/5.12 FIP (2019)
(Note: Dobnak's stats were from only 9 appearances.)
This is a situation where the new system is really helping us out because the Pirates offense has been terrible to start the season. They are nearly the bottom of the league in offense and their wRC+ against right handed pitchers is 39. When you consider that 100 is average, that is embarrassingly low. Dobnak has looked great in his first two starts of the year and it seems like he could have another good start here against this sorry excuse for an offense.
The Twins offense on the other hand is as good as advertised with a 120 wRC+ against right handers like Trevor Williams. The Twins are 9-2 on the season and just absolutely dominant in all facets of the game. It's hard to see this offense not performing today and it's even harder not to see a quality start by Dobnak. Lay the runs.
Milwaukee Brewers at Chicago White Sox Betting Tips:
Brewers: Adrian Houser 3.72 ERA/3.88 FIP (2019)
White Sox: Dallas Keuchel 3.75 ERA/4.72 FIP (2019)
There have been two huge letdowns for the 2020 Brewers: Christian Yelich and the bullpen. Yelich, the 2018 MVP and near 2019 MVP if not for an injury, hasn't been able to hit himself out of a water paper bag this season with a .097 batting average thus far. Maybe his problem is that he hasn't been able to face the Brewers bullpen who have a 4.54 ERA/4.85 FIP on the season with a 2.27 HR/9 rate.
I bring up the bullpen here because Houser has had exactly three starts in his career that lasted longer than five innings so the bullpen will play a big factor. That is most definitely to be the case here as the White Sox have killed righties early in the year with a 125 wRC+.
Keuchel is near a league-average starter and the Brewers offense is near league-average against lefties. I'm not expecting anything special from either side here, just solid performance. The White Sox bullpen has been very good early as they just showed in Milwaukee.
The System likes the White Sox a lot here and it's a great value based on the current odds.
Houston Astros at Arizona Diamondbacks Betting Tips:
Astros: Lance McCcullers Jr. 3.71 ERA/3.29 (Career)
Diamondbacks: Robbie Ray 4.34 ERA/4.29 FIP (2019)
McCullers misssed all of 2019 recovering from injury and has had his troubles in his first two starts of the season. He gets a huge boost today by facing this Diamondbacks offense that has just a 54 wRC+ on the season. I have my reservations about him, but the Astros bullpen has been very good to start the season as well.
Plus, it's the Astros offense. They have been doing it again this year and they face a lefty here who they have a 126 wRC+ against on the year. Robbie Ray is a solid pitcher who struggles with walks and had a 1.55 HR/9 in 2019. That's not the kind of numbers you want against the Astros.
Best Sportsbook To Bet MLB:
[geocode id=44