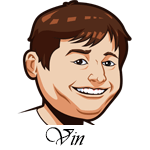 Follow @SBTSportBetting
A 3-1 record last night.
The only disappointment last night was the Indians and Twins failing to go over as it only hit seven runs when we bet the over of nine. I think they definitely left some runs on the table here, but I am not going to sweat it too much.
The Pirates was our closest win as they won 4-3 against the Rockies. While the Braves did what I thought they would do and crushed the lefty.
The Diamondbacks were our other win and when I wrote this late Tuesday night the line was -155. By the time the game started this game was -190 so I hope you all got in early or laid the runs. Arizona won 6-0 in an easy win. That team is really dangerous and I think they are really being underrated.
Arizona to win the NL West is +295 right now and I think I might be putting a bit of money on that. They are tied with the Dodgers right now (although they have played two more games) and have a slightly harder schedule down the stretch, but there is no reason they should be nearly 3-to-1 here.
[text-blocks id="137″ slug="email"]
Minnesota Twins vs. Cleveland Indians Betting Tips:
This one is a bit of a risk as there are two good pitchers on the mound, but I really believe in Corey Kluber here. He has a little stretch of rough starts, but he's really rebounded over his last two starts with just one run allowed total. He's coming off a complete game shutout against the Angels and I think the Twins are no Angels. They are a bit cold at the plate of late with just a 87 wRC+ over the past two weeks. I like Kluber to do some big things here.
He goes against Jose Berrios and while he's having a great season, he's been a far worse pitcher in his road starts. He faces the Indians who are hitting for a 106 wRC+ against righties on the season and are hitting the ball really well right now. I don't trust what's left of this bullpen and I am going to be laying the runs here.
Bet Indians -1.5 (-101) at: [text-blocks id="87″ slug="bet-mlb"]
Los Angeles Dodgers vs. Colorado Rockies Betting Tips:
I don't mean to pick on the Rockies, I really don't, but this is a tough stretch of schedule and they have not been getting it done lately. Disappointing offense has been the key and today they draw a tough start against Ross Stripling who has a 2.68 ERA/3.07 FIP on the year. The Rockies are bad against righties and ice cold right now with a 75 wRC+ over the past 14 days.
Tyler Anderson has been decent and knows how to pitch at Coors Field, but he's not having the season that Stripling is having and the Dodgers are a tough offense. He has a 4.05 ERA/4.51 FIP on the year and his flyball rates are a career high this year. The only thing bailing him out of late is his low batting average on balls in play that will come back to haunt him. How about today?
Bet Dodgers -132 at: [text-blocks id="87″ slug="bet-mlb"]
Follow @SBTSportBetting