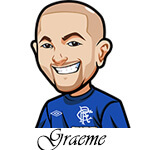 Follow @SBTSportBetting
The second round of Group E games in the 2018 World Cup take place on Friday, June 22nd. Brazil take on Costa Rica to open the day up, and then the day ends with Switzerland vs Serbia.
Brazil were under a lot of criticism after their draw against Switzerland. However that one didn't surprise me which is why I went with Both Teams to Score. I knew it was going to be a competitive game and Switzerland are a quality team.
Brazil racked up 20 attempts on the game with just 4 on target which was disappointing. Switzerland are a hard working team and fully deserved the draw. What a strike from Countinho though – a real special player.
Costa Rica lost 1-0 to Serbia. That one disappointed me as they started quite strong with two good chances in the first half. After the break Serbia were the team that just looked like they were going to score and wanted it more. Costa Rica were quite solid defensively in that one as expected but couldn't get the strong counter attack going that I was hoping for.
Brazil vs Costa Rica Betting Odds:
Brazil To Win: 1.16
Costa Rica To Win: 26.00
Draw: 7.50
(Odds on this page are correct as of 2018/06/18 12:21:41 PM EST but are subject to change)
Brazil Analysis:
Watching Brazil play their first match was very interesting.
Up until they scored the first goal, they looked AMAZING. They were so ridiculously cocky and confident going forward. Every attack it just looked like a matter of time before they scored.
That's the Brazil I want to see. A Brazilian team that just looks so confident – if they can do that for 90 minutes they can go all the way.
After it was 1-1 and things were drawing to a close, I was extremely disappointed by what I saw. Brazil upped the pace however looked desperate and sloppy and it was such a difference from the opening 20.
Brazil have the ability of course but it's scary the way that team switched off.
Costa Rica Analysis:
No doubt Costa Rica will go into this one with a very defensive approach. It's a tough spot for them too because theoretically they have to win and go for it. They'll have to hope their counter attack is more fruitful than their previous game.
Switzerland probably aren't getting enough credit for their performance against Brazil and I don't know if the Costa Ricans can match that performance. Brazil are more talented than Serbia yet Serbia got in numerous solid scoring positions even though they relied mostly on Milinkovic-Savic and Mitrovic for that.
I think it could be a long night for Costa Rica.
Brazil vs Costa Rica Betting Tips:
I'd like to think we'll see a bloodthirsty Brazilian team here. They should have no problem with the Costa Rican defense and I was disappointed with the Costa Rica counter attack against Serbia.
I feel this is going to be a dominant performance from Brazil. Unfortunately the sportsbooks agree and the odds on them aren't good. I'm going to go with 3 units on Brazil -2 and I just hope that they keep things going like they did in the first 20 minutes of their last game. 2.37 odds, bet that at https://www.Bovada.lv.
Follow @SBTSportBetting