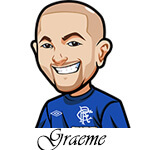 Follow @SBTSportBetting
Sorry for no tips the past couple of days.
As mentioned I was up at the cottage for the week. I generally only had a certain amount of "screen time" per day as there is no wifi at the cottage and I have to walk a distance to a spot with wifi.
So Wednesday I ended up spending most of my time on my golf betting tips. Thursday I planned to do tips but then ended up streaming the Rangers match instead ha. That one had me on the edge of my seat so I couldn't work side by side. And then came home yesterday and by the time all the unpacking was done I was beat.
Oh well – not sure there was much I would have liked in the EPL anyway. In hindsight maybe a Chelsea/Pool/City treble but not sure there is anything else. Would have probably backed Everton game to have more goals or them to win.
As it is we ended the month with a bang – I went 2-0 on August 29th to cap a successful Carabao Cup outing. I had Everton -1.5 and also Watford to score at least 2 goals and both of them came in.
Rangers vs Celtic tomorrow. I gotta say there's probably not a better time for Rangers to face Celtic. In saying that I am concerned Celtic are still leagues above us and that Brown will have them motivated for this one. Was hoping bookies would give us a good price on Celtic but unfortunately not really.
Let's just stick with the EPL:
Burnley vs Man Utd Betting Tips:
Last week was a very interesting one for Man Utd. While I won with my bet against them they were the much better team the first half and just fell apart in the second half. It's been a very intersting and frustrating time for them.
Their offense can't get going and their defense can't seem to get clicking. De Gea can't control the area and they are just a mess.
Yet like I said if you go by just the first half of the Spurs game they look like a contender so you can't count them out.
I feel they are leagues ahead of Burnley and regardless of their problems, should get the win here. Burnley will also no doubt be a bit tired from midweek and have been conceding a lot of goals themselves.
I'm going to do two bets here due to both teams defensive problems.
1u on Man Utd to win at 1.66 odds and 0.5u on over 2.5 goals at 2.07 odds. You can bet this one at
https://www.Bovada.lv
(Odds on this page are correct as of 2018/09/01 5:01:18 PM EST but are subject to change)

That's going to be the only betting tip for me. I'm a bit concerned about Watfords performances at the moment – they have been quite solid and could prove a match for Spurs. Arsenal I don't want to get too risky involving them just yet.
Mon the Rangers.
Follow @SBTSportBetting