Carolina Panthers vs Philadelphia Eagles Betting Tips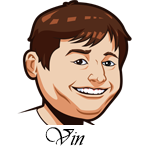 By
What a great night for sports. We have an absolutely huge game five in the MLB playoffs as the Nationals host the Cubs. The Nationals fought back yesterday for a 5-0 win in Chicago to force this game. We saw the Indians eliminated yesterday and tonight we could see the team they beat in last year's World Series eliminated as well.
We also have this Thursday Night Football game that has the potential to be one of the best of the season. Both of these teams are a bit of a shocker at 4-1. They were both expected to contend, but some of the games they have won have been very impressive and I don't think anyone expected this to be a match-up of two first place teams. While the Carolina games have been a bit close, the Eagles have really beat up some teams including last week's domination of Arizona. Tonight should be a good one.
#1 Sportsbook Online for Americans

Good deposit bonus, lot of unique bets & props. Excellent mobile & live betting.
NFL Betting Tips:
This is a great match-up of offense versus defense. The Panthers are allowing a paltry 274 yards per game and just 79 yards per game on the ground. While the Eagles are averaging 397 yards per game with a huge 138 yards on the ground. Who will be able to impose their will on the other will be a big part of this game. The home field advantage does matter here and the Panthers are giving an extra 0.5 for that advantage. This will be the first home game for Carolina after two weeks away as well.
The thing about this game is that while the Panthers defense has been lauded, the Eagles defense really showed something on Sunday. Their shutdown of the Cardinals offense was masterful and they've only allowed 100 yards rushing in a game once this season.
Throw in the fact that Thursday games usually equals tired teams, we have to go with the under 45 points in this game. This would be a great match-up on Sunday or Monday night, but on Thursday it is likely to be sloppy and ruled by the defenses.
MLB Playoffs Betting Tips:
The Cubs may have really hurt their chances in this series by using Jon Lester in relief yesterday. While Kyle Hendricks was great in game one, he isn't quite the same level of pitcher and the back-up to him is just not on the same level.
Of course, the same may be true of the Nationals. They'll throw either Gio Gonzalez or Tanner Roark tonight, with no mention of Max Scherzer being available. The final game of this series could be decided by the bullpens and the offenses. Washington has a .128/.256/.239 slash line in the series and the Cubs are hitting .159/.257/.258. This final game could change all that.
There isn't a ton of value in betting either side as the line is basically a coinflip. Looking at the pitching and the hitting lines, it's easy to see why. Whoever loses can hold their head high, these two teams are essentially the same talent level. This playoffs has been all about offense thus far with the exception of this series. I think that changes tonight and we have an exciting game five. Over 7.5 runs is our play.
#1 Sportsbook Online for Americans

Good deposit bonus, lot of unique bets & props. Excellent mobile & live betting.