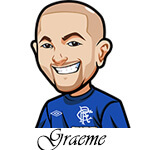 Follow @SBTSportBetting


[Get Exclusive Tips on our Patreon, Ad-Free
]
Two weeks of playoffs, two winning weeks. Let's make it three!
We're down to the conference finals. Two games, and then we've got the Super Bowl. Two trophies to be handed out that none of these teams really care about. All they care about is the Super Bowl.
I must admit it always amuses me seeing people bet more during this sort of time. All the betting action for the Super Bowl etc. I mean if you're doing fun props that's one thing; but if you actually want to win money the best time is during the regular season, especially around weeks 3-4 when the public assessment of teams hasn't caught up yet. (see: Washington defense).
I always find it tough writing for these sort of games as well, because what can I say that a million other people haven't? It's not like I have some secret insight or anything.
However over the past year, I've debated about launching a website focused solely on player prop bets. I've been prepping for that by gathering data, working on systems etc for a variety of sports. I've no idea when – or if – I will launch that website – but I thought I would focus more on player props for these games. I did that last week with the Burrow prop, and we won that.
So let's look at them both:
Bengals at Chiefs Betting Tips:
The time to bet this was a few days ago, when the Chiefs were -7. Now the line is Chiefs -7.5, I don't think it's worth it. Amazing what a half point can do.
The Bengals beat the Chiefs back in January 34-31. Honestly I just don't buy this Bengals team yet. Even versus the Titans and the Raiders I felt they were there for the taking.
I think the Chiefs will take them.
I haven't seen anything from this Chiefs defense to suggest they won't get lit up. I'm going to go with the same bet I did last week – Joe Burrow Over 24.5 passing completions.
Even in a low scoring game he had 28 there. I quite like him to do that again.

49ers at Rams Betting Tips:
The 49ers are 3.5 point underdogs.
I still can't believe they have stumbled their way into here. I honestly don't feel they deserve to be here. However now they are going against a team that they made a massive comeback against at the end of the season.
Jimmy has been quite weak these last two games. Defense wins championships though and while the 49ers defense has a lot of respect – their pass rush is phenomenal – I am not sold on the cornerbacks.
Here's my strategy for the game honestly: watch, and hope the Rams get an early lead. Then live bet the 49ers for at least over a touchdown. They have been excellent at comebacks this season. After the Rams performance last week – that will give them even more confidence in that regard.
If you're looking to bet this one – I honestly don't know. I think the 49ers will pull it off.
Looking at props, I am going to go with Nick Bosa to record a sack. He sacked him once in the first game, got a half sack in the last game, and was lights out against the Packers.
That's my two prop plays and thoughts on the games. If you are looking to bet the props, the online sportsbooks below have many:
Support Us
: We now have a Patreon where we provide some tips exclusively to people who support us on there.
Join them!
Follow @SBTSportBetting