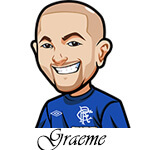 Well although it wasn't an official tip, I hope some of you ended up betting on Sepp Straka in the Houston Open last week.
Here's what I wrote last week:
I just want to note this odd pick that my system came up with – Sepp Straka. He's 110/1 here and the system likes him. However he's on the back of 5 missed cuts, and has never played this course. No way in hell could I advise him here but just wanted to throw it out as it's one of the most bizarre picks my system has made. Will be neat to see if he manages to surprise the world here.
Straka ended up having an excellent first day then was consistent the rest of the tournament for a finish of -11, and a very respectable 4th place.
I ended up throwing 1/8u on him so that was nice. Also just nice to see the metrics bringing him up.
Last week I also mentioned I am looking at other tours. Well Seung-su Han got us a cash in that one!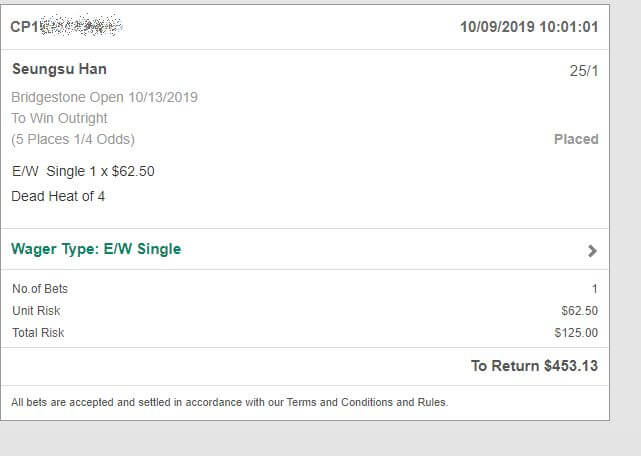 That was nice.
I'm still blown away by that Straka one though. That was really cool. Pity Zac Blair had that poor second round as he had an excellent first and fourth round that could have made him a cash too.
CJ Cup 2019 Betting Tips:
All small plays this week for a total of 3/4u. Wind can be a big factor here. This weeks Sepp Straka is Wyndham Clark at 200/1. Just like last week I can't bring myself to advise it.
Rafael Cabrera-Bello: 25/1. When you take a look at his form over the last little while, he's been really good. One of those that you don't really realize until you look close. He's had two excellent finishes on this course and it wouldn't surprise me if he does better than his 3rd place last year. Despite that, it's a very strong field and I don't love his price considering who else is playing. 1/8u to win & E/W
Luke List: 100/1. He's recently came back into form, had a good performance on this course previously, and suits it. He didn't play last year but was 5th two years ago. 1/8u to win & E/W
Phil Mickelson:80/1. What a price for the big man. Crazy to see 80/1 on Phil. As we've learned over the years however he's someone who can bring it on when we least expect it. I'm thinking he can do something here though. 1/8u to win & E/W
ITyrell Hatton: 45/1 Seems to have got his game going. Decent place last year. He actually had a weak start but rocked it at the end with a big finish so if he starts well then he could be a contender.
Ian Poulter: 60/1 Two solid finishes here. Current form not great. But this course seems to suit him. Could be a good time for him to bounce back. Word out of his camp is he is very upset at the Italian Open performance so may be nice and motivated.
Open de France 2019 Betting Tips:
I had Richie Ramsay on this list almost however at the last second pulled him. Still may be worth a play. Despite the metrics and his performances lately I can't ignore his lack of form here.
Marcus Kinult: 25/1. Marcus will be looking to win this tournament after last years performance. I bet that is still in his head as he should have on ethat one. He's been in average form lately but I think is worth a small punt. 1/8u to win & E/W
Callum Shinkwin: 60/1. In form here and performed well in the past at this course. 1/8u to win & E/W
Matthew Southgate: 40/1. Solid form over the last little while, plays well on this course and high on the metrics. 1/4u to win & E/W
Other Tips:
Buick LPGA Shanghai:
Shanshan Feng 25/1 1/8u to win & E/W
Nasa Hatoka 16/1: 1/8u to win