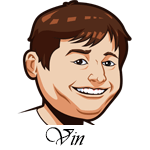 Follow @SBTSportBetting


[Get Exclusive Tips on our Patreon, Ad-Free
]
The NBA Finals are finally here with game one kicking off tonight in Oakland. The Cleveland Cavaliers and Golden State Warriors start the first ever NBA Finals trilogy this evening and interest could not be higher. The stakes could not be higher.
For the Warriors, it's a must win. Last year they set an NBA record with 73-wins and lost the NBA Finals. They reacted to that by adding one of the top-five best players in the NBA in Kevin Durant and came back with an even scarier squad this year. Losing this year, after three straight years of being the best team in the NBA and forming one of the greatest teams of all-time, would be an absolute disaster.
For Cleveland, this is all about LeBron James. He is arguably the greatest player of all-time yet he is compared to Michael Jordan who had an outstanding 6-0 record in the Finals. LeBron's record sits at 3-4 and that is all the evidence some people need that he is just not up to snuff. Never mind that his teams were often underdogs or that this is a vastly different NBA today. Still, a win here would cement his legacy and crown him as the king slayer of the NBA.
NBA Finals Betting Tips:
This is going to be a difficult series to get a grasp on. Last year in the NBA Finals, game seven was decided by four points and every other game was decided by 11 or more. I'm not saying that this series will be the same as that one, but the way these teams play it is easy for things to get out of reach in a hurry. The three-pointers will be falling in this series to be sure.
Game one, no matter how many times teams have been there, always features a little bit of nerves to start. The first few possessions are always a mess and teams usually need til the first time out to adjust. We see this in just about every sport and I don't think this game will be different. For that matter, I think I have to go with the under 224.5 points here. Only one game went over that number last year and the nerves could be an issue.
As for the winner, consider this: Golden State hasn't lost a game with all four of the Big Four suiting up since February 28. That was the day that Kevin Durant got injured. Since he came back and they've played full strength, they haven't lost. Throw in the fact that Lebron James led teams have lost game one of the Finals for five straight years and we have to take Warriors -7 in this one. The Oracle crowd should be hot and for whatever reason LeBron's teams like to get hit before they hit back.
Of course, the NBA Finals always brings plenty of props as well. The favorite betting line of all is always the NBA Finals MVP award winner. Below we have the latest MVP odds from Bovada.
NBA Finals MVP – Odds to Win

Kevin Durant +200
Stephen Curry +275
Draymond Green +600
Klay Thompson +1600
Andre Iguodala +6600
Lebron James +225
Kyrie Irving +900
Kevin Love +2500
Any Other Player +2500

The interesting thing about these odds is that if you bet the Cavaliers to win the NBA title Bovada would give you +200 odds, but LeBron James to win the MVP is +225. Basically, if the Cavs win then LeBron is winning the MVP. That is an obvious thing so there probably isn't a lot of value in the other Cavaliers.
A pay that interests me is Draymond Green +600. Kevin Durant and Stephen Curry could both have great series, but they could hypothetically split the vote. That leaves the do-everything defensive superstar to step in. If he didn't get suspended and the Warriors won the series last year, I think Draymond would've been the MVP of the series. 6-to-1 on him is pretty good odds. Of course, it's hard not to like Klay Thompson at +1600 as well. We haven't seen the "Klay game" yet in these playoffs and you know he has a 21-point quarter in him at some point in this series.
That leads perfectly into this next prop from Bovada.
Which player will have most points scored in one game in the 2017 NBA Championship?

LeBron James (CLE) +200
Kevin Durant (GS) +275
Kyrie Irving (CLE) +325
Stephen Curry (GS) +325
Field +450

The Field +450 might as well be Klay Thompson +450. With so much attention being paid on the other four names on this list, it's easy to see the highest scoring game going to Klay or even Kevin Love.
Follow @SBTSportBetting