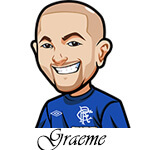 Well it was nice of Tony Finau to get that cash for us last week and he was unlucky not to win due to a spectacular performance from Dechambeau.
I've either backed Finau quite a bit recently or he's made it onto my shortlist multiple times. It's frustrating when that happens and the person doesn't make the top 5 in awhile. Stenson is another one that has been like that most of the season – and it ends up choosing whether to back them or not is generally a gut play more than anything else.
I'll post the betting slip next week. Out at the cottage this week for the last week of Summer before the kids schools start so time is a bit limited. Plus I lock this site down security wise to the point that it's a right pain in the arse just posting tips never mind uploading pictures etc.
Let's get on with this weeks tips – no big write ups due to time constraints.
Dell Championship 2018 Betting Tips:
Tricky one as there is quite a few who made my shortlist that I just can't back for various reasons. DJ – too short odds. Jason Day – too short odds considering his form. Justin Thomas – think the odds are too short and while he will be there or thereabouts I can't back him.him.
Will be interesting seeing how Tiger does. His putting was off last time out and I wonder if that will be in his head or if he can bounce back. May place a small bet on him as I am enjoying cheering for him but cannot advise
Rory McIlroy: ¼ unit to win. Type of tournament where if someone attacks it aggressively they could take it and we know Rory has that in him.
Adam Scott: In form, and always performs well here. Nice price too. 1/2u to win & E/W.
Webb Simpson: ¼ unit to win & E/W.
Patrick Cantlay: ¼ unit to win & E/W.
Brooks Koepka: ¼ unit to win. Not fully convinced but people I respect really like him this week so I'd love a piece of the pie.
Kevin Na: ¼ unit to win & E/W.
Made in Denmark 2018 Betting Tips:
Just a few long shot bets this week:
Gaganjeet Bhullar
Hunter Stewart
Matthias Schwab
Thomas Aiken
All 1/8 unit to win & E/W