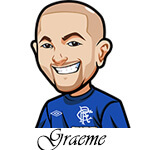 What a great time it is to be a golf fan.
Golf is currently at peak levels of excitement at the moment as we get ready for the first major of 2018 – The Masters.
A few weeks ago we had Phil Mickelson taking down the WGC Mexico Championship for his first victory in forever. We've had the return of Tiger freaking Woods and now the return of Rory McIlroy!
Love him or hate him, there are not enough accolades in the world to describe Rorys play this past weekend at the Arnold Palmer Invitational. That final round was absolutely glorious.
We even had a cash with Justin Rose which was nice. I've said it here before but really all I care about when it comes to golf betting is having someone to last to that final day and give me excitement. Anything else is a bonus.
Just a shame Rory was so unstoppable as otherwise Rose might have sneaked in the win. Regardless he got 3rd place and a cash. I made a mistake last week as I relied on someone else to do my bets for me as I was out of town, and they actually bet "to win and top 5" INSTEAD of "to win and e/w". So anyway here's the joined betting slips of that this week: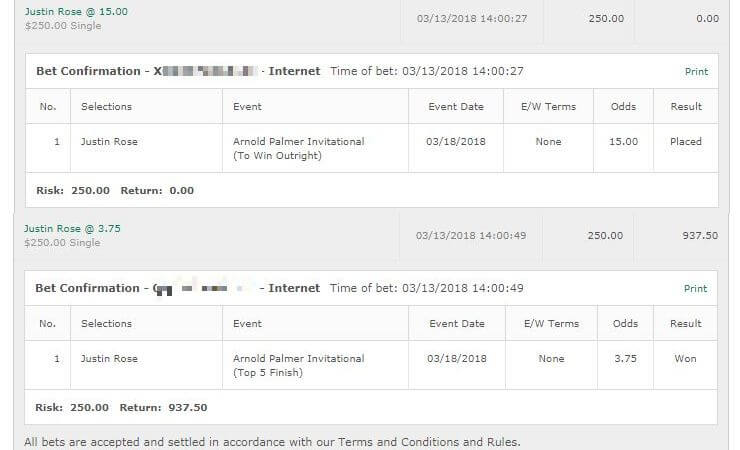 So not as good a return for me but oh well nice to get some money back this week to continue my run of at LEAST a cash every week in the year 2018 so far.
WGC Dell Match Play Betting Tips:
In case there's any golf fans who have returned to the sport since Tiger got his groove back – there has been changes to this event. It's now 16 pools of 4 players and they all play each other in the first 3 rounds, then the last 16 go down to 2 and they battle it out.
In terms of handicapping it's not one I focus too much on to be honest. I'm not complaining – gives me more time to focus on the Masters. To be honest with this along with the Corales – this really isn't a week for serious bets. I'm comfortable with my bankroll to do my usual bets but where I bet 1/4 unit, you may wish to bet 1/8 unit or even skip this week.
I'm just doing 4 1/4 unit bets more for entertainment than anything else with a bit of research. I'm then doing 1 bet for each group and picking who will win each group for a whopping 1/10th of a unit. Just to give me something to interest me. Personally I'd advise not following those bets. I've spent no more than 5 minutes on each one.
Anyway the 1/4 unit bets are also without any serious analysis. Really just a quick glance as this tournament just doesn't do it for me. Your call if you want to tail but if there's ever a week to skip it's this one:
– Jordan Spieth to win & E/W
– Rory McIlroy to win
– Phil Mickelson to win & E/W
– Justin Thomas to win
And the group winners bets discounting the 4 picks from above – some I believe will win, some I just think have value and some I just want to cheer em on:
Group 3: Jon Rahm
Group 5: Patrick Cantlay
Group 7:Shubhankar Sharma
Group 8: Jason Day
Group 9: Ian Poulter
Group 10: Paul Casey
Group 11: Bubba Watson
Group 12: Tyrell Hatton
Group 13:Alex Noren
Group 15: Webb Simpson
Group 16: Matt Kuchar
Corales Championship 2018 Betting Tips:
Yeeeeah. Not another one I'm taking too seriously ha. I mean it's tough to even figure out what metrics to run here. I've went with 4 random bets based more on ability than anything else.
– Scott Piercy
– Conrad Shindler
– Michael Kim
– Emiliano Grillo
Grillo to win, the rest E/W. All 1/4 units and I'm well prepared to lose a full unit here and would be stunned if I don't.
Kia Classic Betting Tips:
Not much I liked here.
– 1/4 unit on Sung Hyun Park to win & E/W.