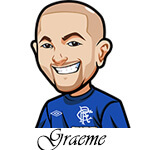 Follow @SBTSportBetting
Tuesday, 28th August sees the English Carabao Cup second round take place and I am going to focus on that tournament for today.
Still up at the cottage and I really just don't feel like doing any stats based picks ha. More fun just relaxing, reading a few previews, analyzing some past results and then using my general know how to make a few predictions.
One tricky thing about this tournament is of course it's hard to make predictions based on not knowing who will be rested etc. So it will be just small and speculative plays to get some interest going for these games.
Swansea vs Crystal Palace Betting Tips:
After a great start, Crystal Palace stuttered with losses to Liverpool and Watford. While not confirmed you would think with a big clash against Southampton coming up they'd be looking to rest their stars.
Swansea also haven't got off to a good start however their defense has looked really good so far this season in most of their games. That is the type of thing that can carry over to a midweek cup tie as they play a higher ranked team and I think that wil spur them on.
(Odds on this page are correct as of 2018/08/27 3:36:51 PM EST but are subject to change)
Brighton vs Southampton Betting Tips:
Similar one here. Brighton have looked solid defensively and I was very impressed with them on the weekend. They look to have confidence going for them while Southampton have been struggling.
I think this is the type of tournament Brighton would be happy getting a nice little run in and can't see Soton repeating their performance in the cup from a couple of years ago.
(Odds on this page are correct as of 2018/08/27 3:36:51 PM EST but are subject to change)
Wimbledon vs West Ham Betting Tips:
Wimbledon had a really motivated second half performance against Portsmouth in the first round. That got them into the 2nd round for only the first time ever. But you can't see them doing much here.
They come in with low morale after a few losses against Sunderland and Walsall and they have no defense at all it seems. The Hammers have to come out motivated ready to win here and try and turn their fortunes around after some poor performances.
(Odds on this page are correct as of 2018/08/27 3:36:51 PM EST but are subject to change)
Fulham vs Exeter City Betting Tips:
Fulham are coming off a fun game against Burnley and I am hoping their confidence continues here. I would expect Mitrovic to be rested but I would like to think we see Sessegnon start this game to help him remain sharp and I feel their attack will be too much for Exeter.
Obviously the top teams can tend to phone it in but I like a hot attack to continue here. I mean if anything Exeter should be the team focusing more on the league considering this early in the race they are already looking at promotion.
(Odds on this page are correct as of 2018/08/27 3:36:51 PM EST but are subject to change)
Follow @SBTSportBetting