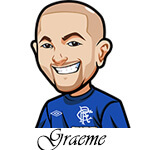 Follow @SBTSportBetting


[Get Exclusive Tips on our Patreon, Ad-Free
]
It was a winning week at Silverstone albeit, a frustrating one. It keeps us in the black at +1.14u for the season. Not anything to write home about but it took a little while for me to get in the groove having not written F1 betting tips for a few years, so I'm happy with it.
Last week was frustrating because we went 2-2 with our 1u play losing. But our 1u play was Verstappen to be leading after 5 laps. He got the EXACT start I expected and took over the lead.
Unfortunately the race was stopped due to the Russell incident, and when they restarted, they restarted in grid positions. Sainz was aggressive as all hell during the restart, and Max had no chance to overtake him until later in the race.
We won with Lewis to make the podium and Ferrari Most Team Points. Our other loss was both Mercedes Top 6 Finish – which obviously didn't come in due to Russell busting about 10 seconds in. Poor guy.
We had sprints today which were – okay. I mean I enjoyed them and all, but other than the battle between Mick & Lewis there really wasn't much going on was there?
If Ferrari could actually work together tomorrow they may be able to stop Max. But man, I'm not seeing it.

1u on Mick Schumacher for Points Finish at 2.00 odds
Mick is someone it has been risky to bet on lately which is why we're probably getting decent odds. If there is one week to bet him, it appears to be this week.
He was able to come 8th in qualifying. He did very well in the sprints with some excellent driving., He starts 9th tomorrow. When I look at the people below him – assuming he is able to keep the driving up, I can't see there being an issue for him. Him and Magnussen showed at times they can work well together, so I can see both of them working together tomorrow to aim for points finishes.
I'm honestly not seeing anything else too amazing. I'm going to add a couple of speculative bets – your call if you want to follow.
0.25u on Sainz to beat Leclerc at 3.00 odds.
This is one I can't get away from. From everything I have seen, Sainz is determined to do the best he can here. We saw how Ferrari "work" together last week and then today – they don't! They were challenging each other and I can see Sainz really pushing for it. Ferrari are such a mess at times that you can count on them doing something dumb as well.
Leclerc has a much better pace, and by all accounts shouldn't give up his spot to Sainz. But this IS Ferrari.

Follow @SBTSportBetting