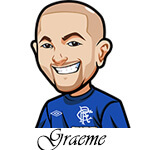 Follow @SBTSportBetting
Welcome to Friday and what a great evening of sports we had last night.
The NFL Draft kicked off with some interesting ones. The big story though was the drama behind Laremy Tunsils whose Twitter showed someone in a mask hitting a bong, and then his Instagram showed him getting money off his coach.
Bit of a mess that and have to feel a bit bad for the dude. Some real malicious people out there.
The NHL Playoffs saw the Penguins vs Capital Game 1 take place and boy what a game that was. The Capitals won it in overtime 4-3 but holy crap was that a close game and hopefully more games are going to be like that.
I loved the replays for the overtime goal with 10 different camera angles inconclusive and then they saved the best for last – the camera angle showing the puck clearly going over the line.
It's Formula 1 weekend and Russia and that's what we're covering today.
This will be just the 3rd Russian Grand Prix to ever take place. Lewis Hamilton has won the previous two in 2015 and 2014 although both times it was more like Rosberg lost than Hamilton won.
Let's get to the F1 Russian Grand Prix Betting Picks:
Notable Upcoming Bets:
F1 Russian Grand Prix Betting Picks:
First up we're going to take Nico Rosberg to win. Rosberg has been in fine form with 3 out of 3 victories so far this season and we think he's going to break his unlucky streak and add a 4th victory to his list.
However we're also going to place a couple of smaller bets on the winner. You may want to place a bet on Ferrari to win but we're doing a smaller bet on Raikkonen and slightly bigger bet on Vettel.
No major reason for either of those – just feels like it's a good time for a non Mercedes win ya know? Rosberg will be over confident and Hamilton is feeling the pressure. Feels like one of those times where Sebastian Vettel just steps in outta nowhere and gets the W. However we do like the Ferrari and think it should do well on this course so a small bet on the 16/1 Kimi Raikkonen makes sense.
Back to our serious bets and we're taking Bottas for a Top 6 Finish. Williams is behind the Red Bull engine overall, but we think engine will be a big factor at Sochi as we've seen previously – a big strong engine benefits here and that's what they have. We like Bottas to get a big finish for himself here.
Finally this week we're on Fernando Alonso to finish in the points.
The McLaren has been disappointing so far but we like them to step up here and Alonso to get in the points. It looks like most of the issues they've been having are sorted and we like to see the McLaren this week at the best it's been all season.
Those are our F1 bets for the F1 Russian Grand Prix.
Notable Upcoming Bets:
This week, the Formula 1 returns to Russia for the 2016 Russian Grand Prix which takes place at the Sochi Autodrom. It's been held here the last two years and Lewis Hamilton has won both times.
This race took place a lot later last year in October. Lewis Hamilton was the victor last year with Vettel second and Sergio Perez 3rd. Nico Rosberg started well however had to retire 7 laps in due to a locked throttle and Hamilton took control from there and that was all she wrote.
This should be a very interesting one. Rosberg leads the driver standings with all 3 wins so far and at 75 points with Hamilton 36 points behind. Hamilton will be hoping to make it 3 in a row here.
It's going to be interesting because Nico Rosberg ran into problems in the 2014 Russian Grand Prix. At the 2nd turn he attempted to out-brake his team mate and that didn't end well for him. Despite that he still drove a hell of a race.
F1 Russian Grand Prix Winner: Nico Rosberg
Rosberg has been incredibly unlucky the past two years in Russia and you have to wonder if it will be third time lucky for him. Nico has been on an incredible tear yet is only the 2nd favourite next to Hamilton.
The fact is Rosberg losing in the last two Russian Grand Prix was his own doing – or by bad luck. Not that he would have won for sure but I do believe he is the better driver of the two on this circuit and I have to advise we get on him at the 11/8 price.
Long Shot Winner Bet: Sebastian Vettel
While I'm recommending Nico Rosberg for the win, I'm going to place a small bet on Sebastian Vettel, the 3rd favourite at 11/2, to surprise everyone and come away with the win. It just feels like we're due for a non-Mercedes win, and with Ferrari spending their tokens upgrading now seems like the right time for it.
Kimi Raikkonen is also worth a small bet to be honest at 16/1. That's a stupid price to be honest and you may want to consider betting Ferrari to win overall.
Top 6 Finish: Valtteri Bottas:
At 13/8 we like the odds of Bottas who we think can get going here. Williams have slipped back from last season and the overall package is behind the Red Bull, however Sochi really rewards a nice strong engine and we think they can get ahead as the 3rd best team. Despite Massas current form we think Bottas is good for a Top 6 at that price.
Points Finish: Fernando Alonso
We seem to go with McLaren every week but they're really the best value here. The Honda Unit is much improved and the energy harvesting issues have mostly been fixed. Sometimes it's frustrating though seeing these drivers – as good as they are – in a car that doesn't complement them. Regardless – we're taking Alonso here.
Follow @SBTSportBetting