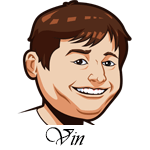 Follow @SBTSportBetting
A 3-0 record last night.
A very good night as we were +4 units. The two unit play we took was the Miami Heat -5 at the Golden State Warriors. The Heat were coming into this one on a losing streak and got Jimmy Butler back for this one. This was a game that they just weren't going to lose and ended the first half up 19 points. There was the typical worry where the bench unit gave up some of that lead in the second half, but the Heat were able to hang on and cover.
We also took the Bucks -10.5. Giannis wasn't playing as his girlfriend gave birth to their first child yesterday, but that didn't matter. The Bucks got big games from Eric Bledsoe, Khris Middleton, and Brook Lopez here and got the come from behind win. The Bucks are now 4-0 against the spread when favored by double digits without Giannis. Amazing.
The Raptors were our other pick and they also won by double digits last night. This ended up being a pretty high scoring game, but the Raptors got it done behind big minutes from all their stars. Kyle Lowry played 40 minutes and Pascal Siakam played 37. I respect it, but I'm not sure that this team has another level to go up to when the playoffs start. It seems like they are playing at it now.
Notable Upcoming Bets:
Portland Trail Blazers at New Orleans Pelicans Betting Tips:
The run that Damian Lillard has been on has been really something and he's proved just how unique he is by getting his shot off in deeper and deeper spots. That said, I do not like this match-up for him at all. Jrue Holiday is one of the better guard defenders in this league and Lonzo Ball has a big size advantage on both Lillard and CJ McCollum. It's not a good look for Portland.
That's before we get to the best players on the Pelicans, Zion Williamson and Brandon Ingram. Do you really think that Carmelo is going to be able to defend Zion in any meaningful? They are on the opposite ends of the spectrum right now and I can see some real highlight dunks coming today.
The Pelicans look like a great bet here. This line is nothing, they are at home, and they have a good size and depth advantage here.
Boston Celtics at Houston Rockets Betting Tips:
The Celtics have won seven straight games while the Rockets have dropped their last two, but I think this is a really fun match-up. The Rockets have made their recent dedication to playing smaller and the Celtics have seemingly been doing that all year. Both teams like to play five out without much use for traditional big men.
I think this game is going to be fast. Both teams will play small and I am expecting a ton of three point shots put up. I was slightly leaning towards the Rockets here, but the Celtics play of late has just been too good to go against.
This is a great place to grab the over though. If they are shooting the kind of threes that I am expecting them to do, I can easily see both teams scoring 116+ here.
Bet Rockets/Celtics Over 232 for 1 unit
Follow @SBTSportBetting