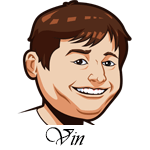 Follow @SBTSportBetting


[Get Exclusive Tips on our Patreon, Ad-Free
]
The NBA is finally back today and with it they are bringing us the trade deadline today as well. We were hesitant to make any NBA tips today with all the moves potentially on the horizon, but luckily the teams in action aren't among those likely to be making big moves. It'll be interesting to see if Boston does anything big at the trade deadline. They are currently third in the East without any true superstar and they have a ton of assets. Dwight Howard and Pau Gasol are big names that are out there, but its hard to say if they'll be able to find a deal. Stay tuned.
As far as the actual games, we have a nice match-up tonight with the Clippers taking on the Spurs. The Spurs are playing some amazing basketball and if it wasn't for the potentially record setting Warriors, they would be the talk of the NBA. The Clippers are still without Blake Griffin, but they have managed to play a lot better without him than with him. This could be a fun game on TNT tonight.
The Cavs are also in action against the Bulls and it's a case study in how far the Bulls have fallen. Last season, they were one of the Cavs biggest obstacles to the NBA Finals. This season? They are 13 point underdogs on the road. Cleveland added Channing Frye in a trade today, but it is unlikely he'll be in town in time to play in this one. He'll be a good addition for them and allow some lineup versatility, but he does offer much of the same skill set as Kevin Love.
Of course, we also have a full slate of NHL games tonight as well. Some highlights include the Kings and Blues, Sharks and Panthers, and Washington at the Islanders. We have a lot of picks to get to so let's dive right into it.
NHL Betting Tips:
The Atlantic Conference leading Florida Panthers are home dogs tonight against the San Jose Sharks and I can't figure out why. On paper it looks like it's because they have their back-up, Al Montoya, going against San Jose's top goalie in Martin Jones, but that doesn't seem like enough to me. I like the Panthers +135 to protect the house.
This will be game six of a seven game road trip for the Kings and they are limping to the finish. They've only scored one goal in their past two games and this will be their fifth game in eight days. They have to be getting worn down and I have to go with the Blues -120 tonight. Under different circumstances I'd go with the Kings, but this road trip is brutal.
The Capitols have won their last six match-ups with the Islanders and have won six of their past seven games. And I'm supposed to go against them? No, thank you. Washington -115 is a steal tonight.
NBA Betting Tips:
If there was one NBA team that needed to do something to save them from being a huge disappointment this season, it was the Washington Wizards. Currently out of the playoffs, they are just two seasons removed from nearly making the Eastern Conference Finals. They have one of the best young backcourts in the NBA led by John Wall who is an absolute stud. That season, in retrospect, doomed this team because they locked up their coach (who isn't good) and held on to the Gortat/Nene frontcourt (that doesn't really fit the timeline of Wall/Beal). Now, they're here. A good example of a team whose lead they should've followed is their opponent tonight, the Utah Jazz. The Jazz have let their young core grow together and are currently reaping the benefits. They have a great problem going forward in that they have too much talent and will have some tough decisions to make in the future.
The Wizards are just a disappointment and with the Jazz having their front court healthy, they should be dominating teams like the Wizards. I know it's a road game, but they've had plenty of rest from the All-Star break and are looking for a big second half. Jazz +1 is a strong play tonight.
Spurs versus Clippers should be a great one tonight, but the Spurs will be without Manu Ginobli and Tony Parker is listed as probable for tonight. I like the Spurs to win because they are a machine, but I think it could be a close one. Clippers +4.5 seems way too high for this match-up even without Blake Griffin.
Follow @SBTSportBetting