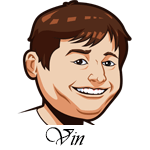 Follow @SBTSportBetting
NASCAR makes their return to Talladega, one of their most popular speedways, this weekend for the GEICO 500. This track is the longest superspeedway in NASCAR and features a track that is 2.66 miles (4.28 kilometers) long which leads to some incredible speeds and crashes are frequent. Talladega is home to the fast speed in stock car history with an average of 216.309 mph (348.116 km/h) and reaching 228 mph (367 km/h) at the end of the backstretch.
Drivers going into a race here know that wrecks are going to happen so managing their cars is very important here. This is a hard race to pick because a wreck can really mess everything up. We've done well of late in NASCAR with a nice win last weekend with Denny Hamlin at +1000. The odds here are pretty high on all the racers due to the crashes so it will be a tough one. Bet accordingly.
This is a race where qualifying position shouldn't matter too much as it is pretty wide open and unpredictable. The last two races have been won by Toyota cars and they could work together early here to control the first stage. There are multiple drivers in this race with wins here in the past and we'll be highlighting a couple of those below. I am going to go with four racers due to the unpredictable nature of this race.
Notable Upcoming Bets:
GEICO 500 Betting Tips:
Chase Elliot +800: Not a lot of fun betting the favorite, but he's worth it right now. He had a 2nd place finish last weekend, a fifth place finish last week, and is last year's winner of this race. He's on a good run right now and has shown that he can get it done at Talladega in the past. Definitely worth a bet.
Brad Keselowski +925: It's hard to ignore his track record here and he is definitely worth a bet. Brad has five wins at Talladega in his career and is coming in hot here. He has two wins since the restart and another top-3 finish. He's shown good speed which is going to be important here. If you have to pick a favorite to win this race, Brad is your guy.
Kurt Busch +1800: Busch won this race in 2017, but I would still consider him to be a high-risk pick. He is the kind of driver that is either going to finish in the top-5 or get in a wreck and not finish the rest. Busch has five top-8 finishes out of his last eight races here. He is yet to win a race this season, but he does have multiple top-10 finishes on the year.
Alex Bowman +2000: Bowman has been teasing us for awhile with great runs and poor finishes, but I believe in his car and his speed. He had a second place finish at last year's GEICO 500 and if he can just stay in the race without wrecking I think he'll have a high finish. He has the skill and his car has the speed, it's just a matter of putting it together.
Under 8.5 Cautions: This race is known for the wrecks on the superspeedway, but the last three races have all gone under this number. The last two years featured just six cautions and I think this line is artificially high. Yes, there is risk involved as things could go bad, but recent history here and in recent races this season doesn't show that nine cautions is all that likely.
Follow @SBTSportBetting