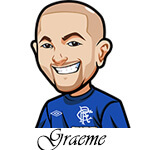 Welcome to this weeks golf tips!
I took a break from the golf last week with not much going on tournament wise and that was quite nice.
I cover the golf each Wednesday usually and honestly it wears on me at times. So it was nice to take a break and just watch some golf and relax not bothering to bet it.
Now I am recharged and ready to tackle this weeks action. We have two tournaments on the go so let's get to it shall we?
Mayakoba Bets:
Lovely time of the year to be playing in this. Wish I was there watching. Kuchar won it last year. One of those courses with lots of high scores like -22 for Kuchar which was the highest so far.
All bets are to win and Top 5.
My primary bet is on Russell Knox. He's performed well at this course in the last and he's coming in on form which I find is always a big deal for this tournament. Form is key and I like what he has going for him.
A slightly smaller bet on Scottie Scheffler. He hasn't played here but I bet after playing it once he'll be hooked. Metrics wise he stands out for this coruse and has the form coming in as well with that excellent showing at the Bermuda.
Then two long shot bets that were close. Charles Howell III has to be bet basically due to his previous form here. That's without question. His current form is solid here and so just feel obligated to back him.
Also on Aaron Wise. This was a close one and I almost didn't back him but I felt he did play well last year and after that Bermuda performance he may be hitting a nice little run of form. Let's hope so.
Nedbank Bets:
This used to be the Million Dollar Challenge which is a much more fun name. It was a winner take all concept which was neat to watch I remember.
All will be to win and top 5.
Lot of prestigious winners of this tournament over the years but none more than our first bet. Lee Westwood. Have to take him here as he has won three times and just steps up on this course. He's someone I just felt I had to bet here.
I'm then doing smaller bets on a few golfers. All are considered longshots. They are Scott Jamieson, Paul Waring, Andrea Pavan and Richie Ramsay.
Jamieson locked in a 2nd place here a couple years ago and looked good last week.
Waring I dig a lot. Performed well here, had a great year. Cap it all off with a win here. Go on my son.
Andrea Pavan is a solid price. Should be there or thereabouts at the end.
Finally Richie Ramsay who suits this course, played well here, playing well overall at the moment. Checks the boxes.
Let's go!