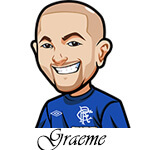 Follow @SBTSportBetting
Hi guys,
It's Wednesday and I'll be covering the golf as well as the first week of the CFL 2017 season.
Hope everyone enjoyed the US Open. Only bet I had that came in was Rickie Fowler to win and E/W. That made it almost breakeven for me.
Was a real crappy US Open though I just couldn't get into the finale at all. I was pretty psyched going into the final round too as it looked like it was going to be an epic battle – but sadly it did not turn out to be. I turned it off before Koepka was even on 16.
Oh well – we turn our attention to this week.
Travelers Championship Bets:
I've got three bets for the Travelers Championship.
The first one is Bubba Watson to win and E/W. A nice price on Bubba Watson to be fair. Watson has won this one a couple of times and he's always did some solid performance on this course. He's got some bloody weird form going on at the moment – does great one tournament, bad the next. However I'm going to go with him to do great here with my bet with a unit on him.
Next up is Brandt Snedeker. I like what I saw from him in the US Open I've got to say and I think he'll do quite well here. To win and E/W for a half unit.
Finally I'm betting on Graham Delaet. He's not coming into this with some strong form or anything but he's still been decent throughout the year. I like what he's did on this course previously. This is a real "if the stars align" sort of pick but I'm going to go with him for a quarter unit.
Oh and a quick note for the BMW International Open I've just got to throw half a unit on Pablo Larrazabi to win and E/W.
CFL Week 1 Bets:
Maybe I'm crazy but I'm actually backing all 4 favourites here.
I'm on:
Alouettes -6.5
Stampeders -3.5
Lions -3
Tiger-Cats -3.5
Real quick – Roughriders just look like they're going to have another brutal season. This line seems low considering and I'm confident in Montreal here.
The Stampders are Grey Cup favourites for a reason and I think they're going to demonstrate that here. To be honest I'd consider this one a major upset.
I'm a bit conflicted on the Eskimos vs Lions game but I'm going to take Lions -3. This will be an interesting game however I do think the BC Lions defense is just slightly better and that will be the difference.
Finally I think Hamilton are going to have a big season and we're going to see that begin here over Toronto.
That's my CFL tips. You can bet the CFL at the below sportsbook:
Follow @SBTSportBetting