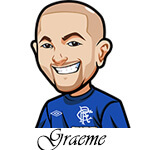 Follow @SBTSportBetting
An EXCELLENT week last week in the Porsche European Open, with a winner and a second place.
Out of the top three golfers, I decided to take Paul Casey to win this one. He duly delivered, with an excellent last day to take the tournament.
Matthias Schwab was an e/w win as well, as he also had a great last day to cement 2nd place in the tournament.
Was great to see especially after Levy disappointed us early on with getting cut. Glad I decided to tip last week.
Here are the betting slips: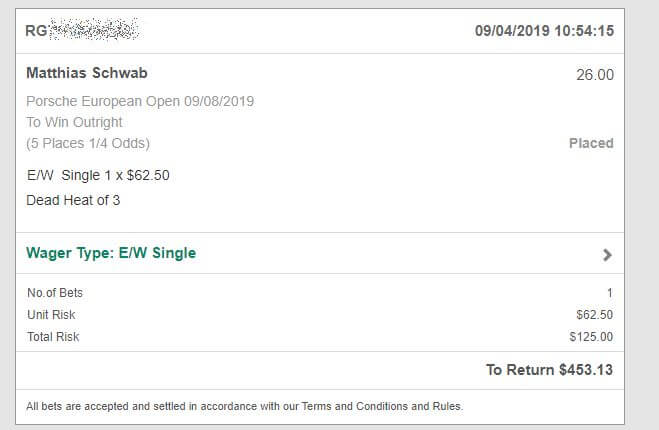 This week is the return of the PGA season with the Greenbrier Classic. We've then got golf every week up until mid December. The first WGC event begins on Halloween and is the HSBC Championship.
Let's get onto this week:
Greenbrier Betting Tips:
Marc Leishman: 25/1. Leishman hasn't played here since they had to redo the course. Granted many say it's the same and he did have some missed cuts prior to that and struggled here. However I like him here and he's playing okay. All his putting metrics suggest he should be able to do well here. He's a much improved player since those cuts. 1/4u to win & E/W.
Jason Kokrak: 16/1. I'd be surprised if he isn't there or thereabouts at the end. 3rd place last year, really improved his game lately and is doing good. One of those I feel the odds are a bit too short and so will take the risk on the win instead. 1/8u to win.
Sungjae Im: 20/1. he stands out for me in the metrics. However he hasn't tried this course out before, and his odds have dropped considerably in the last few days so I feel like quite a few people must be on him. One of those where he stands out enough that I've gotta bet it even if I feel it's -EV at this price. 1/8u to win & E/W. Feel free to skip that one.
Brendon Todd: 110/1. Long shot bet but I've been reading a bit about him lately and mentally he seems to be strong. Bradley Hughes really helped him apparently and I think there's a slim chance he may surprise. Had two top 10 places here prior to the year break. 1/8u to win & E/W.
Kramer Hickok: 80/1. This is my final bet this week. Honestly it's a tough one as there is so many potential players here. He had a brutal rookie year but has turned it around recently with some solid play and I think is worth the bet. 1/4u to win & E/W.
Nothing for the KLM Open with it being at a new venue. The Senior tour played at it previously but looking at the metrics, not much stood out there.
Enjoy the start of the PGA season!
Follow @SBTSportBetting