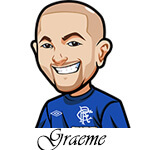 Follow @SBTSportBetting


[Get Exclusive Tips on our Patreon, Ad-Free
]
It was good to log a winning week with the NFL in Week 3. Could have been much better too. A half point loss, and two tough losses on late plays.
We're onto Week 4 of the NFL – man it's going so fast. Tonight we've got a matchup that would be worthy of the Super Bowl itself if it was at all possible – the Cincinnati Bengals vs the Jacksonville Jaguars!
The Bengals come in as 7.5 point favourites. They're 2-1-0 in the AFC North. A tight win over the Vikings in OT, a loss to the Bears where Burrow got destroyed, then a surprising but nice win over the Steelers 24-10.
Jaguars…..man, rough times. Blown out by the Texans. 10 point loss to the Broncos. 12 point loss to the Cards. Lawrence struggling. Not looking good.
It'll take time. Gotta give Lawrence a chance and he's just mentally off his game right now it seems. He's got a good arm. He's just not making the right decisions.
We're going to be betting against him here though so hopefully he won't make the right decisions this week.
It's very possible. Betting against the Jags here could easily bite me on the ass and it's a hefty point spread. But when I look at what we've seen from the three games so far, I gotta go with Cincinnati.
Burrow has impressed me. His OL did a good job last week against the Steelers. It's hard to see the Jags get this one going offensively. The Bengals defense has been quietly solid this season so far.
I did like seeing the Jags utilize Robinson more in the passing game. That's the sort of thing they need and he looked good last week in that regard.
Jags defense has been tough against the run so far but out of the previous running backs they've went up against – Mixon I'd say is better than them, and could give a tough game for Jacksonville.
Tee Higgins is out again. That sucks but Ja'Marr Chase stepped up nicely. I like Boyd going up against Claybrooks too and Tate could get something going here.
We're at that point in the season where we can start basing picks based on games THIS season, as opposed to last. I felt comfortable with that last week when I said take the Bills -7 over Washington. One of those teams where people still grade their defense on the prior season.
Happy to tip Bengals tonight. They're -7.5 and honestly I hate that half point just from an emotional betting perspective. Like that -3.5 last week. I'd personally move it up to -7 myself. It's about -135 odds and I'd prefer getting a win for slightly less, than losing due to a stupid half point.
Support Us
: We now have a Patreon where we provide some tips exclusively to people who support us on there.
Join them!
Follow @SBTSportBetting