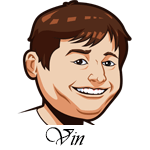 Follow @SBTSportBetting
There is a really fun match-up in hockey tonight as the Pittsburgh Penguins take on the Ottawa Senators. These two teams are both bound for the playoffs in the Eastern Conference and they represent two very different styles of play. For the Penguins, as always, it's about putting the puck in the net and scoring as much as possible. Their 141 goals is second in the NHL and they are a threat on every single night. For the Senators it's about grinding it out, despite their 21-14-4 record they have a -3 goal differential on the season. They play games low scoring and close. Opposites attract and this should be a fun game.
We also have a primetime NBA match-up with the New York Knicks hosting the Chicago Bulls. The Knicks have had some drama this week with Derrick Rose disappearing and going home to Chicago. They've lost three straight and are free falling out of the playoff picture. They face Chicago who will be without Jimmy Butler and are having their own problems in the playoff race, but this should be a good game with good friends and future Hall of Famers Carmelo Anthony and Dwayne Wade going at each other on national television.
Notable Upcoming Bets:
NBA Betting Tips:
Unfortunately for New York, this will be their third game in four nights and a back-to-back which is just about the worst thing that can happen to a team on the NBA schedule. We've made bank all season by looking for these games and this is a great opportunity. New York is really in disarray right now and it might not be solved. They've lost three straight and the Bulls +3.5 should make it four.
The Pistons don't really have a chance against the Warriors and tonight will be the third game of their west coast road trip. The Warriors -13 are a big favorite here, but they should honestly be a bigger one. -17 is a number that feels right. It's a lot of points, but don't worry about it. The Warriors are simply on a completely different level than Detroit.
NHL Betting Tips:
The Penguins are an offensive juggernaut and one of the scariest teams in the league, tonight all signs are pointing to them asserting their will and forcing the Senators to play their game. Over the last ten meetings between these two teams there has been an average of 6.6 goals per game. That trend should hold here and this one is going over 5.5 goals.
A week ago Vancouver was one of the hottest teams in the league, but after having their six game winning streak snapped they've now lost two in a row. They play in Philadelphia tonight and the Canucks have really struggled on the road this year. Vancouver is just 5-13-2 on the road this year which is just as bad as it looks. Philadelphia is a stout team and are fighting for a playoff spot right now. The Flyers -115 are a solid play tonight.
Follow @SBTSportBetting