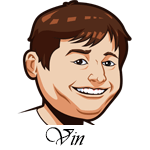 A 2-0 record last night.
We took the Utah Jazz yesterday at -9, but by the time the game started it was down to -6.5. Why? Donovan Mitchell was scratched. That's a big scare, but I stuck with it and it paid off nicely. The Wizards still had no answer for the Jazz and Bojan Bogdanovic went off for 31 points. It was a much higher scoring game than you usually see with the Jazz. They got a great showing from their recent acquisition Jordan Clarkson who added 23 points off the bench. The Jazz have now won nine straight games and 14 of their past 15.
Our other tip was the Brooklyn Nets and this one wasn't even close. The Nets opened the first quarter with a 37-16 lead and never looked back. This was the return of Kyrie Irving to the team and he had a nice showing. He scored 21 points in just 20 minutes with three rebounds and four assists. After losing all those games in a row, the Nets have now won two straight.
A typical Monday schedule up against the College Football Championship. Let's get into the tips.
Notable Upcoming Bets:
Chicago Bulls at Boston Celtics Betting Tips:
The Bulls are a bad offensive team on the road. The Celtics are a great defensive team and a great home team. Sometimes it's just that easy.
The Boston Celtics have the fifth best Offensive Rating in the NBA and the third best Defensive Rating in the league. They have a 15-3 straight up record at home on the season and are coming off a huge 140-105 win against the Pelicans. They are also healthy, which is not something that I can say about most NBA teams right now, with only Daniel Theis on the injury list.
The Bulls will be without Wendell Carter Jr. and Otto Porter Jr. Those are two of their top-five scorers and the next players on deck aren't exactly inspiring. This team just is kind of a mess and I don't think they are very good in any way.
Boston is -10 here which is high, but I think they can bring that same energy that they brought against New Orleans. There is no reason for them not to cover this spread as they play basketball at a much higher level than Chicago and have the far more talented roster.
Oklahoma City Thunder at Minnesota Timberwolves Betting Tips:
I think I would like the Thunder in this game no matter what, but with Karl-Anthony Towns listed as questionable – I really like them quite a bit.
The Wolves have feasted on lesser teams this season. Against a team with a winning record they are just 4-12 on the season straight up. They are also 6-11 in their home games. While OKC has done well on the road at 9-10 with a 14-5 against the spread record in those games. They are 11-3 over their past fourteen games and are just getting it done of late.
I love the guards on OKC as Shai Gilgeous-Alexander, Chris Paul, and Dennis Schroder are an unstoppable force together. I don't see anyone in the Minnesota back court that can quite handle them. I'm all over OKC today, two units.