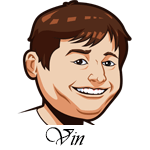 A 1-1 record last night.
We lost taking the Jazz at the Pelicans last night, a game that the Pelicans absolutely deserved to win. Brandon Ingram just showed that he is on another level right now and should be getting serious All-Star consideration. He finished with 49 points, 8 rebounds and 6 assists. His highlight play was hitting a potentially game-winning shot with less than a second left, but a weird pass interference call got us to overtime where the Pelicans finished it off. Ingram's great night outshine Donovan Mitchell's great night as he finished with 46 points.
The Celtics +10 were our other pick last night and they covered that spread in a loss to the Bucks. I said in the write-up that I thought the Bucks would win, but this spread was too high and that's just how it went. It wasn't without drama though as the Bucks lead 106-87 after three quarters. A huge fourth quarter from the Celtics put a scare into the Bucks, but they held on. Giannis Antetokounmpo showed that the size advantage of the Bucks will really be a problem in a potential playoff match-up between these two teams as he dominated with 32 points and 17 rebounds. Kemba Walker had a huge game for the Cetlics with 40 points and 11 rebounds.
A full Friday night slate tonight, let's get into the tips.
Notable Upcoming Bets:
Cleveland Cavaliers at Memphis Grizzlies Betting Tips:
Hey, you know who is awesome now? The Grizzlies.
All season long we have seen that Ja Morant is the runaway Rookie of the Year and the best draft pick this offseason, but what we've seen over the past couple of weeks has been on another level. The Grizzlies have won six straight and are getting great contributions across the board. Their big man lineup is devastating with Jonas Valanciunas, Jaren Jackson Jr. and Brandon Clarke all contributing.
The Cavs are bad and probably getting worse. They've lost the last two games by 25 points or more and I don't see things getting much better tonight. The size advantage they have on some teams will not apply here and Morant is bound to make their guards look silly.
Let's take the Grizz for seven straight tonight.
Portland Trail Blazers at Dallas Mavericks Betting Tips:
The Blazers have had so many injuries this season that it's hard not to feel sorry for them. When you read something like "Skal Labissiere Is Out" and actually worry about how they will make it without him, that's how you know things have gotten bad.
The Mavericks are one of my favorite things as Luka Doncic is just an absolute wizard. They are without Kristaps Porzingis, but Dwight Powell has done a great job as a pick-and-roll partner for Luka. That match-up will definitely cause some problems tonight as the Blazers just don't have the size to match that.
The Mavericks offense just blitzed people as they are tops in the NBA in Offensive Rating. The Blazers are 24th in Defensive Rating. That is going to turn out exactly how you think it is.