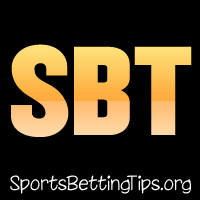 Follow @SBTSportBetting


[Get Exclusive Tips on our Patreon, Ad-Free
]
Another fantastic Sunday, but not a pigskin, deflated or otherwise, in sight. In the office, we had our annual Royal Rumble party, and we were checking off the eliminations for Roman Reigns, and unfortunately (or fortunately depending on your perspective), we got a dead-heat. Still, what a blast the event was and the crowd made it even better. The Twitter backlash for the WWE has been hilarious, too. Can you imagine cancelling your NBA Season Pass because of a couple of refereeing decisions you didn't agree with? We'll assume Colts fans have cancelled ESPN in the wake of Inflategate.
Now, the NHL are on a break, so we're turning our attentions elsewhere, but we still have our usual NBA picks, and our tennis tipster is stepping up to the plate again. Our soccer tipster has been following the African Cup of Nations, and he's pulled one out for us for tomorrow.
So, for the 26th of January 2015 (where has the time gone already?), let's get onto the free sports betting tips.
NBA Betting Tips for January 26th
A decent line-up in the NBA tonight, even with games cancelled in Brooklyn and New York, but there seems to be a lot of dogs on the road. That being said, we've got a couple of bets we like the look of for tonight.
Orlando vs Memphis.
Yep, this might be one where the dogs are on the road, but the line looks nice for the Grizzlies here. Yes, -12 is a lot, but they're at home and they thumped the Magic by 10 in Orlando, and we can only see them doing that damage and then some more in Memphis. The Magic seem to fade towards the end of games, while the Grizzlies don't seem to drop. It's a mismatch on paper, but we expected a slightly higher line. Get on Grizzlies -12 to do the business tonight, you know it makes sense!
Minnesota vs Oklahoma City
It's another mismatch here, but the line, for us, looks just a tad high at 15.5. Yes, the Thunder are going to win, but they're not impressed on the road, so their form and confidence might not be too high. Not that it will stop them beating the T'Wolves, but you have to think that they won't be firing on all cylinders. Minnesota do suck, but their only lost by 12 to the seriously red-hot Atlanta on the road, and we don't think the Thunder are any better than them at this moment in time. Take Minnesota +15.5.
African Cup of Nations Tip For 27th January:
Yes, it's tomorrow's action, but we want to get on early.
Senagal vs Algeria
We're enjoying the African Cup of Nations – there's always a team or two that come out of nowhere and impress. However, this match is between two African stalwarts. We were all impressed by Algeria during last year's World Cup – they took the game to eventual World Champions Germany, and have a seriously well organised team. Senegal, on the other hand, are not the force they once were. Where they once had speed, agility and flair, there now seems to be a reliance of bully-boy tactics and little else. The Algerian team is classy and have more than enough to snatch a win against a Senegal side. Algeria to beat Senegal is odds-against and is huge value.
Place all your African Cup of Nations bets at Bet365.
Australian Open Tennis Betting Tip For 27th January:
Our tennis tipster is back after spending all his time curled up in front of the tennis and definitely not asking Ms Bouchard to twirl one more time. Honestly. He even celebrated Australia Day by throwing some shrimps on the barbie, drinking Fosters and doing other traditions that no self-respecting Australia would actually ever do. Although he did start a fight on the beach.
Simona Halep vs Ekaterina Makarova.
Something has to give here, as the 3rd seed, Simona Halep and 10th seed, Ekaterina Makarova, have yet to drop a set between them. The bookies favour Halep, but Makarova is no mug – it's not like going deep in a Grand Slam is new territory to either of them. While we think Halep will do the win, we think it's going to be over three sets. So, Halep vs Makarova to go three sets at around 7/5 is a great play for us here.
Andy Murray vs Nick Kyrgios.
Yes, the crowd are going to be behind young Kyrgios, but you can't forget the number of ex-pat Brits that will be in the crowd supporting their man Murray. It's going to be loud, it's going to be hot, even at that time of night, but it should be exciting. The problem Kyrgios has here is that his main weapon is his serve, but Murray is one of the best returners of serve in the game. With that weapon neutralised, Murray should get through this comfortably enough. However, I think we might see the usual Murray drop in concentration, and with the crowd on his side, we can expect Kyrgios to nick a set. Andy Murray to beat Nick Kyrgios 3-1 looks the most likely scoreline, and as much as the Brits in the crowd might love it, the Aussie is good enough with such strong support to avoid a 3-0 drubbing.
Place all your tennis bets at Bet365.
Follow @SBTSportBetting