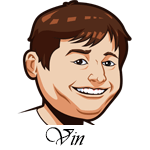 Follow @SBTSportBetting
A great weekend of sports saw Simona Halep win the Women's Wimbeldon championship and Novak Djokovic take it for the men. It was quite a war with Djokovic and Roger Federer as the fifth set came down to a 13-12 score. Just incredible.
Yesterday also brought us the British Grand Prix that was one by, who else, Lewis Hamilton. It was his sixth victory at the British GP and he now has a commanding lead in the F1 standings. Everyone else is playing for second place right now.
We focus on baseball today with a good slate of games on the horizon. We have quite a few picks so let's get into it.
MLB Betting Tips:
All tips come from the Bet MLB System. The system is coming off a 4-1 weekend.
A rare four tip night so let's get right into it.
Cincinnati Reds at Chicago Cubs: This is an underrated pitching match-up between Luis Castillo and Kyle Hendricks, but it's also one that could be marred by the winds at Wrigley. The wind is expected to be blowing out at about 10 mph tonight and we could see the ball moving through the air and out of the park.
If that is indeed the case, we have to go with the Cubs here. They are the better offense against right handed pitchers, the better offense in general and the better offense over the past two weeks. Throw in Luis Castillo's FIP jumping to 4.92 away from home and this is a great value on the Cubs.
Pittsburgh Pirates at St. Louis Cardinals: The Pirates offense has been on fire of late while the Cardinals has really stagnated. Over the past two weeks, the Pirates are the best offense in baseball with an .896 OPS and a 131 wRC+. They face Miles Mikolas today who has a 4.53 ERA/4.46 FIP. He's a low strikeout guy which is a pitcher type I like to target.
Joe Musgrove goes for Pittsburgh and he's having a nice season with a 4.15 ERA/3.69 FIP. The thing I am looking at here is his road starts where he has a 3.67 ERA/2.92 FIP. That's really nice and should hold up against this cold offense.
Chicago White Sox at Kansas City Royals: Lucas Giolito is having a breakout season this year and he's really being underrated in this match-up. He has a 3.15 ERA/3.21 FIP on the season with big strikeout numbers and today he faces on the worst offenses in the league. What's not to like?
The Sox offense is by no means elite, but neither is Jakob Junis. He has a 5.33 ERA/5.05 FIP on the season and he's no stranger to the longball. This is the most puzzling line of the day and I'm all over the White Sox.
Houston Astros at Los Angeles Angels: The Astros offense is really good. The Astros bullpen is really good. They go with Joshua James here as an opener and they've made some adjustments with him that have made him look much better of late.
While the Angels offense has been good against right handers this season, I am just not seeing them hanging in this match-up. The Astros bullpen is deep and good and can shut them down.
While the Angels send Griffin Canning who has a 4.43 ERA/4.70 FIP on the season with a 1.8 HR/9 rate. You don't want to be homer prone when facing this Astros offense and I think it comes back to bite the Angels today.
Follow @SBTSportBetting