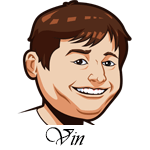 Follow @SBTSportBetting
Baseball is a crazy game with lots of weird results.
Corey Kluber is one of the very best pitchers in all of baseball and he lost to the Pirates who are a below average offense. How? Well, his offense had two errors that led to four runs scored in the second so that didn't help. Great pitchers have bad games sometimes and sometimes that isn't even their fault. Weird results happen.
Last night also saw Cole Hamels allow seven runs to the Athletics at home. Oakland hasn't hit lefties all that well this year, but they absolutely went to town in this 15-3 win. I don't like what this does for Cole Hamels trade options, but Oakland continues to creep up on Seattle in the AL Wild Card standings. This thing is getting interesting.
Another big result was the Braves over the Marlins, 12-1. Jose Urena was actually having a pretty solid season heading into this one, but the powerful Braves offense just took him to town. Proof positive that you are always better off taking good teams.
Notable Upcoming Bets:
WNBA Betting Tips:
I'm a big fan of the Seattle Storm. Sue Bird just keeps getting it done and Breanna Stewart is making her case as the best player in the league right now. They are rolling and one of the top teams in the league right now. That said, I think this line is too dang high. The Storm beat this team by only 9 points at home earlier this season and I'm meant to believe they are going to win by 10+ here. Seattle is coming off a loss and is only 14-10 against the spread despite their 18-7 record overall. I like Seattle to win, but Indiana +10 is too much points to pass up.
MLB Betting Tips:
A rough night for us yesterday in MLB, but I am feeling much better about today's picks.
The Astros -145 should never, ever have a line this low against a left handed pitcher. They hit lefties better than just about anyone in this league and are one of the more dangerous offenses. They send Gerrit Cole to the mound who has big time strikeout stuff which should neutralize the Rockies at Coors Field a bit. I like everything about the Astros more than the Rockies and I'm honestly surprised to see this one so low.
Baltimore is in a bad spot after trading away Manny Machado. They waited too long to do it and didn't get the kind of package they needed to really kick start a rebuild. Now they have not much of anything at the major league or minor league level. A bad place to be, a good place to bet the Red Sox -143. Boston is a scary offense and while Drew Pomeranz isn't exactly the type of pitcher I normally like to back, he's facing one of the worst offenses in baseball who just lost Machado. They are bad, very bad. This could be an ugly one.
Follow @SBTSportBetting