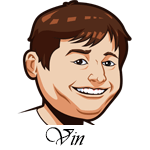 Follow @SBTSportBetting
This week saw Zion Williamson sign the richest shoe deal in history for a rookie as he signed with the Jordan Brand of Nike. I think a lot of people are being cautious about the level of star that this guy is going to be, but this news should wake some people up out of that. This is one of the best young talents to enter the league in a long time and his impact should be immediate. I really would not be surprised if the Pelicans make a playoff push this year. I would be more surprised if that shoe isn't a huge seller. Jordan Brand is already one of the hottest out there and adding an athlete like Zion should only help them grow.
We are now six days out of the MLB trade deadline and no major movement yet. The latest rumors though have the Rangers moving into sell mode. This is good news for the rest of the league as Nomar Mazara is a good, young hitter. While Lance Lynn and Mike Minor are having great seasons and could help any rotation down the stretch. Hopefully we start seeing some action this weekend.
Notable Upcoming Bets:
MLB Betting Tips:
All betting tips are made using the Bet MLB System. I'll be writing tips there this weekend.
Detroit Tigers at Seattle Mariners: The Mariners are not my favorite team to bet as they are one of the worst teams in the league this season, but their offense is truly dangerous as they have hit the sixth most homeruns in all of baseball this season. This is also a good match-up for them as the Tigers are an even worse team.
They face Drew CerHagen today who has only pitched six innings at the major league level this season and he was hit hard there. His 4.42 ERA/3.91 FIP in Triple-A isn't really scaring me as that should lead to some runs for the Mariners.
For Seattle, it looks like this will be a bullpen game with Wade LeBlanc doing a good chuck of the work. The Tigers offense is far below average and the Seattle bullpen should actually look good for once here. I really like the offense much more here and am going to lay the big number on the runline.
CFL Betting Tips:
Toronto Argonauts at Edmonton Eskimos: The Argonauts are still looking for their first win this season and it feels pretty unlikely that it comes here. They are still without QB James Franklin and this team has just been bad all season long. They are getting outscored by an average of 22 points this season, not good.
It won't be easy for the Eskies though as they will be without both star running back C.J. Gable and receiver DaVaris Daniels. That said, QB Trevor Harris should have an easy time with this defense that has given up huge amounts of yards all season long. This is a good opportunity for the Argos, but I just can't see it. They have scored the least amount of points in this league and their QB is coming off a 4-interception game. Things aren't going to get better, they are going to stay bad.
Follow @SBTSportBetting