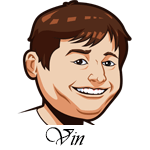 Follow @SBTSportBetting
A 1-2 record last night.
What the heck happened to the Rays bullpen last night? This was a one-run game that I had confidence in winning and then Austin Pruitt came in and gave up 8 runs, 6 earned. I realize he's not a great reliever, but jeez.
The Pirates beat the Mets as we thought and the Phillies dropped one to the Reds. That second loss only hurt because somehow Nick Pivetta managed 12 strikeouts, but still allowed five runs. Huh? That's the kind of performance I'm looking for out of a starter, but the Reds offense grinded it out.
The system likes the Rays again today, but I just can't bring myself to do it. They've traded away so much pitching that I have to see what the new pitching looks like a bit more. The line there is nice, but I'm feeling snake bitten.
Not much else today as the lines look to be right on today. We have one of the biggest moneylines I've seen this season as the Yankees are a -450 favorite in a game against the Royals. I'm almost tempted to take the Royals just for fun. No Aaron Judge or Gary Sanchez for NYY. Then again, it's still Kansas City and now they don't even have Mike Moustakas.
A couple of overs for you today.
[text-blocks id="137″ slug="email"]
Minnesota Twins vs. Boston Red Sox Betting Tips:
Jake Odorizzi has had a few good starts of late, but don't let it fool you. Most of those came against below average offenses. This is the Red Sox who hit righties better than anyone. He has a 4.37 ERA/4.45 FIP on the season with the same amount of 0 earned runs game as 5+ earned run games. He is definitely hittable and the kind of guy who should snap the Red Sox out of this little hitting slump.
The Red Sox send Rick Porcello and while he has a good track record, I like him to give up a few here. The Twins offense is hot right now and while Porcello allowed 0 ER last time out against Baltimore, the time before that he was tagged for 8 against the Jays.
This feels like a great spot to grab the over. It's a bit higher than I want it to be, but the system is seeing an 11-run game to be a distinct possibility. Let's do it.
Bet Red Sox/Twins Over 9.5 Runs at: [text-blocks id="87″ slug="bet-mlb"]
Milwaukee Brewers vs. San Francisco Giants Betting Tips:
I usually try to avoid overs when it comes to this park, but this one might be too good to skip. Since Johnny Cueto's return from the disabled list he's allowed 3+ runs in each of his three starts. While the Brewers are decent against righties.
Jhoulys Chacin goes for Milwaukee and while he's put up some surprising results for them this year, his road numbers aren't nearly as good. He has a 3.67 ERA/4.27 in road starts this year
The thing to me about this one is that the total is set like this is a match-up between Madison Bumgarner and Clayton Kershaw, not these two. While the Giants stadium can suppress runs, I think this game sees at least eight runs. Taking the over here.
Bet Brewers/Giants Over 8 runs at: [text-blocks id="87″ slug="bet-mlb"]
Follow @SBTSportBetting