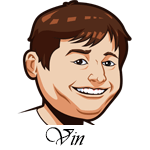 Follow @SBTSportBetting
A 2-0 record last night.
We had a couple of overs last night. The Twins and Red Sox blew it away with a combined 14 runs while the Brewers did the heavy lifting for us as they won a 7-1 with a total of 7.5. A nice night that was much needed. Let's do it again today.
I have four games that I am liking today as the moneylines are all falling right in that sweet spot where it's nearly even money. Those are my favorite kind of moneylines and when the system leans their way, I like to jump on them.
[text-blocks id="137″ slug="email"]
Toronto Blue Jays vs. Chicago White Sox Betting Tips:
Ryan Borucki has made five starts for the Blue Jays and he's gone at least six innings and allowed two runs or less in four of them. He does a decent job controlling the zone and he gets a solid groundball rate. He faces a White Sox team that has been rather pedestrian against lefties this year with just an 85 wRC+.
Carlos Rodon starts for the White Sox and while he's been rounding into form after a rough return from the disabled list, I still think he's been a bit lucky. He has a .236 BABIP to go with his 3.38 ERA/4.63 FIP. That is not sustainable and while the Jays aren't the best offense against lefties (90 wRC+), I like them more than the White Sox here.
Bet Toronto -105 at:[text-blocks id="87″ slug="bet-mlb"]
Oakland Athletics vs. Colorado Rockies Betting Tips:
This one is all about the Oakland Athletics offense that is absolutely on fire of late. They have a 133 wRC+ over their last 14 days and have pounded righties all season to the tune of a 107 wRC+. German Marquez has a 5.00 ERA/4.36 FIP on the year with a 1.42 HR/9. This offense is way too dangerous to be carrying that kind of homerun rate.
Frankie Montas goes for the Athletics and while he does give me a huge amount of pause. Just looking at his numbers I can't figure out how he has a 3.54 ERA/3.73 FIP with such bad strikeout numbers and an average groundball rate. That said, can't argue with results. I think he'll give up some runs here since it's Coors, but do enough to get to the bullpen who should do the rest.
Just like on Friday night, we're taking the team that should win the slugfest.
Bet Athletics +104 at: [text-blocks id="87″ slug="bet-mlb"]
Seattle Mariners vs. Los Angeles Angels Betting Tips:
The Mariners have struggled a bit of late so now is good time to call in one of their best starters: Marco Gonzales. Marco has been fantastic this season with a 3.38 ERA/3.32 FIP. He's a big reason why the Mariners are playing so well this year. I love this match-up against the Angels who have just a 80 wRC+ (.647 OPS) on the year against southpaws.
While Seattle's offense has been cold of late, I like their match-up against Felix Pena. He has a 3.34 ERA/3.88 FIP on the year, but every projection system says he's pitching over his head right now. Seattle has a 101 wRC+ against righties this year.
Bet Mariners -102 at: [text-blocks id="87″ slug="bet-mlb"]
Arizona Diamondbacks vs. San Diego Padres Betting Tips:
I like Joey Lucchesi as a rotation piece, but I do not like this match-up against the Diamondbacks for him. They are a hot offense right now and the Diamondbacks have hit lefties better than righties all season long.
The key to this match-up though is, surprisingly, Clay Buchholz. It feels like this guy has bounced around the league forever, but he's been very solid this year with a 2.38 ERA/3.67 FIP. He draws a great match-up here as he pitches in a friendly ballpark against a very forgiving offense. The Padres have just a 79 wRC+ against righties on the year and have been even colder of late.
Bet Diamondbacks -119 at: [text-blocks id="87″ slug="bet-mlb"]
Follow @SBTSportBetting