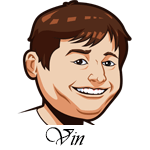 Follow @SBTSportBetting
Well, our luck ran out yesterday but I am still very encouraged by what the system has been showing. I'm pretty sure that Sundays have been my worst day of the week for the whole season and yesterday was no different. I didn't love the lines on some of those games and the early starts always mess with things.
I'm not too worried about it though as we are still at 15-7 since last Sunday. That's a pretty great record no matter how you slice it and I'm not going to let one day throw me off. Let's get back on the horse and kick some more butt this MLB season.
Only ten games on the slate today and not a lot to choose from. The system loves the Indians, but -179 to lay -1.5 on the road is absolutely ridiculous. I very nearly laid the runs with the Yankees, but I feel uncomfortable laying runs with a rookie pitcher who is yet to allow a homerun or last a full six innings.
[text-blocks id="137″ slug="email"]
Tampa Bay Rays vs. Miami Marlins Betting Tips:
The battle for Florida Man's love rages on.
I was a bit surprised by this line as I figured it would be unplayable, but here we are. The Rays offense is filled with names you don't know (Joey Wendle? Like that 90s song?), but they have been getting it done. They have a .734 OPS/105 wRC+ against lefties this year and Wei-Yin Chen is my favorite pitcher to target. He has a 6.14 ERA/5.36 FIP on the season and has given up more homeruns than a batting practice pitcher. He's been better at home like most pitchers, but I still don't trust him in the slightest.
Nathan Eovaldi's 4.08 ERA/4.85 FIP isn't that impressive, but he's been solid with the peripherals. Decent strikeouts, low walks. He's been hampered by a high HR/9 and that doesn't scare me with the Marlins. That number is bound to come down as well and this feels like a good place to start. The Marlins slug just .373 (28th) against righties and like Shania Twain said about guys with cars, they don't impress me much.
Bet Rays -126 at: [text-blocks id="87″ slug="bet-mlb"]
[text-blocks id="110″ slug="middle-ad"]
Milwaukee Brewers vs. Minnesota Twins Betting Tips:
We missed on the Brewers yesterday, but they are back home and I am expecting better things here.
Brent Suter is one of those pitchers that the numbers don't say much, but he always seems to be in a winning position. He has 4.28 ERA/4.25 FIP on the year, but he's had success as long as he keeps the ball in the park. Considering the Twins hit for a .682 OPS/86 wRC+ against lefties, I think there is a good chance of that. The bullpen behind him is top notch and the home field is always great.
Call me a Kyle Gibson non-believer. I don't believe he's as good as his 3.48 ERA/3.86 FIP and I think he's due for regression. The walks are too high, BABIP too low and the left on base just a tad too high. A good team can hurt him. I think the Brewers are that team today. They have a .740 OPS/97 wRC+ against righties, but with two righty killers in Eric Thames and Travis Shaw in the lineup, good things can happen.
Bet the Brewers -137 at: [text-blocks id="87″ slug="bet-mlb"]
[text-blocks id="418″ slug="best-sportsbooks"]
Follow @SBTSportBetting