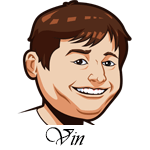 Follow @SBTSportBetting
A 2-0 record last night.
I hope everyone has been following these tips because the Bet MLB System is 11-2 on the season. I believe in my system and think it's going to do well, but this is beyond even my wildest expectations.
We took the Dodgers again last night and they were all over Robbie Ray from the start with three runs in the first and another run added in the second. That proved to be enough to win the game, but they scored some more anyway. Ray had a rough one with only six strikeouts, six walks, and five runs allowed in 4.2 innings. The Dodgers offense is a killer and it seems crazy to think they were only -150 here.
We also took the over in the Giants/Padres game. This was one of those games where they were scrapping for a push. It was 5-1 at the end of the sixth inning and I was starting to wonder if they'd be able to get us there. Then the Padres added another, then the Giants scored 5 over the next two innings to tie it up. That put us over and then in extra innings the Padres scored 6 runs and the Giants 1 to make the final score looking like an easy over all along.
I am worried a bit about the future of this baseball season with even more coronavirus positive tests today and more game cancellations. The Nationals, Marlins, Cardinals, Brewers, Phillies, and Blue Jays are all having their games postponed today and it's becoming an issue. This baseball season is designed to work with teams playing each other and then each team traveling and playing someone else. You take one piece out of that and it can all come crashing down.
I don't know what the future holds for the season, but I do know we have games and we're going to keep plugging along until there aren't any. Let's hope this all works out so we can keep winning money.
Best Odds for MLB:
All tips based on the starting pitchers listed. Tips should be considered void if any pitching changes are made unless otherwise noted.
Tampa Bay Rays at Baltimore Orioles Betting Tips:
Rays: Blake Snell: 4.29 ERA/3.32 FIP (2019)
Orioles: Alex Cobb: 4.90 ERA/4.80 FIP (2018)
I'm using Cobb's 2018 stats here because he only made three starts in 2019 and got rocked in all of them to the point where it's not even smart to use them. An 11.89 FIP would project the Rays to win by 10,000 runs. That said, they still might do just that. The Rays offense has been very good thus far and Alex Cobb is still not very good. A low strikeout rate and a high HR/9 rate always spell trouble and I think that's exactly what he is going to be in here. The Orioles are coming off a couple of games where they just got destroyed by the Yankees, the Rays should continue that trend here.
Blake Snell won the 2018 Cy Young and then had a bit of an unlucky year last year, but he is still a very good pitcher. A huge strikeout rate and a favorable match-up, I think the Rays are just going to cruise to victory today. Lay the runs.
Best Sportsbook To Bet MLB:
Register an Account.
All betting odds and props will now be viewable under the event listing.
You can deposit to BetOnline via over 20 different options such as credit card.
Follow @SBTSportBetting