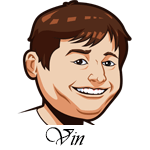 Follow @SBTSportBetting
A 3-1 record last night.
I'm feeling really good about the new system after last night's results. It's still a small sample, but the results have been there for us.
The Red Sox scored about what it thought they would and covered the -1.5 spread on the game against the Orioles. This was close as the Orioles added some runs late, but they were able to hang on for the 6-4 victory.
I had apprehension about going with the Yankees -1.5 over the Nationals, but Washington's struggles against lefties continued and the Yankees amazing bullpen finished it off. A 3-0 win for New York had us starting the day 2-0.
The only game that let us down was the Giants over the Marlins. The Giants offense just hasn't been there the last couple days when we've went with them and they have to feel bad about it as these were two very winnable games. They'll try to save the series today.
We finished the night with the big Astros win over the Athletics. Lance McCullers Jr. threw seven great innings and Evan Gattis had a whopping five RBI as the Astros cruised. They've now won six straight against Houston.
A couple games the system likes that I'll be skipping today.
Braves over Mets (Jacob deGrom is amazing right now, not enough sample on Mike Soroka who is coming off DL)
Jays over Rays (still testing how best to handle bullpen games)
Pirates over Diamondbacks (Arizona offense is hot right now, but still pretty bad overall which seems to be skewing my projections)
Indians over White Sox (moneyline too high, not big enough to lay runs)
Cardinals over Padres (moneyline too high, not big enough to lay runs)
Astros over Athletics (moneyline too high, not big enough to lay runs)
Okay, let's get into it.
[text-blocks id="137″ slug="email"]
Chicago Cubs vs. Milwaukee Brewers Betting Tips:
The Brewers are having a great season, but the Cubs are here now and that doesn't look good for them. Milwaukee has struggled mightily against lefties this year and Mike Montgomery is a left handed pitcher. He has a 3.56 ERA/3.82 FIP on the year and while he doesn't have the kind of strikeouts I normally look for, he does a great job keeping the ball on the ground. Milwaukee just doesn't hit lefties. They have just a .683 OPS/84 wRC+ against southpaws this year.
On paper, Jhoulys Chacin is a similar pitcher with a 3.58 ERA/3.98 FIP. The only difference is he faces the Cubs who have hurt righties this year to the tune of a .760 OPS/105 wRC+. This game is priced like the rivalry game that it is, but I think the Cubs are a much better play.
Bet Cubs -106 at: [text-blocks id="87″ slug="bet-mlb"]
Boston Red Sox vs. Baltimore Orioles Betting Tips:
This is the most lopsided game of the day and while it's kind of pricey for laying the runs, it's worth it. The Orioles have just a .666 OPS/81 wRC+ against lefties this year and today they face Chris Sale.
As if that wasn't unfair enough, Andrew Cashner faces the hardest hitting team against right handed pitchers in baseball. This won't end well. Lay the runs.
Bet Red Sox -1.5 (-135) at:[text-blocks id="87″ slug="bet-mlb"]
[text-blocks id="110″ slug="middle-ad"]
San Francisco Giants vs. Miami Marlins Betting Tips:
I hate going here again after the two letdowns, but the Marlins are still bad and they don't hit lefties well. They have a .675 OPS/87 wRC+ on the year and Andrew Suarez is due for some regression. He has a big 5.06 ERA, but just a 3.94 FIP/3.29 xFIP. Good times are ahead.
Caleb Smith is also a lefty having a solid season with a 3.70 ERA/3.50 FIP on the year. The Giants hit lefties well with a .736 OPS/102 wRC+. Smith was solid last time out against the Padres, but the time before that against Arizona he got rocked. I think the Giants are a bit closer to the Diamondbacks than the Padres when it comes to talent level.
Bet Giants -111 at: [text-blocks id="87″ slug="bet-mlb"]
[text-blocks id="418″ slug="best-sportsbooks"]
Follow @SBTSportBetting