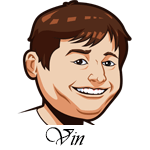 Follow @SBTSportBetting
The MLB return continues to be a dumpster fire with the owners barely hiding the fact that they wish to break the union with this deal. The return to play is definitely coming in second to the financial considerations of the owners and that's a shame to see. This league has made record profits year after year despite waning fan interest and the second that doesn't look like the case, the owners are ready to jettison the season. It's sad to see and I worry about the future of baseball.
This Sunday on MLB Network there is a special about Ken Griffey Jr. It's funny that this is all going on to overshadow what should be a celebration of his career. In 1994, Griffey hit .323/.402/.674 with 40 homeruns in 111 games before the strike hit. He was on pace to challenge for Roger Maris' homerun record at that time and that great season ended up overshadowed (and incomplete) by the 1994 strike.
The English Premier League makes their return tomorrow and we have tips for that here. If we've learned anything from Bundesliga and the empty arena soccer that we've seen thus far, home field advantage is dead without crowds. The EPL has some of the best home field advantages in all of sports so this will definitely be interesting to watch.
This could have an interesting effect on the season with teams that had heavy home schedules early gaining an advantage and teams with a lot of road games early losing their advantage. Aston Villa is one such team as they had six home games left on the schedule. Arsenal is on the opposite end of the spectrum as they had six away games left that now see them playing on a much more even playing field.
Notable Upcoming Bets:
English Premier League Betting Tips:
These games take place tomorrow afternoon in North America.
Aston Villa vs. Sheffield United: Sheffield United has played very well against Aston Villa recently with a win against them earlier this season and a 1-0-2 record in their last three games at Aston Villa. Sheffield United looks like a solid play here, but those two ties are giving me pause.
What I am looking at here is the over. We've seen at least three goals in five of the last game Aston Villa games and the last four match-ups between these teams at Villa Park has seen at least three goals. I could see the layoff coming into play on the defensive side as well and I think this is a great spot to grab the over.
Bet Aston Villa/Sheffield United Over 2.5
Manchester City vs. Arsenal: Manchester City is coming in hot with a 4-0-1 record over their past five home games while Arsenal have been kings of the draw with 5 consecutive draws on the road. I think that is going to end here with Manchester City having won the last three match-ups between these teams including a 3-1 win last season.
Manchester City has a deep squad and are getting Aymeric Laporte and Leroy Sane back here. The underlying stats are showing that Arsenal has been playing above their heads and the layoff should bring them back down to Earth. If it doesn't, Manchester City's depth will. Lay the goals here.
Follow @SBTSportBetting