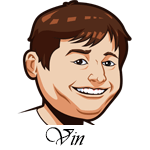 Follow @SBTSportBetting
Tough day yesterday. Wilmer Font pitched the game of his life against the Yankees and Jake Odorizzi pitched the opposite of that against the Rangers.
An 0-2 record as the Yankees uncharacteristically were shut out and Jake Odorizzi dug such a big hole the Twins were never able to come back from it. They scored six runs, but that was not enough thanks to Jake.
It was one of those days where the system didn't love much and today is very similar. Most of the games today are in the -160 or less range with nothing sticking out too much. I am going to take it easy and only post two tips. The line isn't the best on either, but it seems like a surefire win to me. The system kind of likes this first game, but this is one situation where you need to look at the bigger picture.
[text-blocks id="137″ slug="email"]
New York Mets vs. Los Angeles Dodgers Betting Tips:
I like Rich Hill. He's been on and off the disabled list this year and I think he's finally back to where he was. The Ichi-bot is skewing things a bit with his 4.99 ERA/5.52 FIP on the year, but he's way better than that. The Mets are one of the worst hitting teams in the league against left handed pitchers with just .636 OPS on the year. Hill looked good in his first start back (six shutout innings against the Cubs) and I'm expecting another great one here.
Meanwhile, Jason Vargas is just plain bad. He has a 8.60 ERA/6.55 FIP on the year and the Dodgers have an offense that is hitting well right now. They have a .722 OPS against lefties and are really getting hot right now. They've done well for us in this series and I think they will again today.
This line is a bit higher than I normally like so you might want to try line shopping via our MLB Live Odds page.
UPDATE: As I posted this I saw Jason Vargas was scratched and will be replaced by Jerry Blevins aka a bullpen game. If you can get a similar number, jump on it.
Bet Dodgers -166 at: [text-blocks id="87″ slug="bet-mlb"]
[text-blocks id="110″ slug="middle-ad"]
Kansas City Royals vs. Houston Astros Betting Tips:
Gerrit Cole is the man. He has a 2.59 ERA/2.89 FIP on the year and faces one of the worst offenses in the game. The Royals have a .663 OPS against righties this season and while they don't strikeout much, I don't expect them to do much against Cole here.
On the other end, Jason Hammel starts for the Royals and I don't like his chances here. The Astros are one of the top offenses in the league and Hammel is sporting a 4.88 ERA/4.02 FIP on the year and his contact numbers must have the Astros hitters licking their lips. His 47.8% hard contact rate could make for a big day for the Astros bats.
Bet Astros -1.5 (-160) at: [text-blocks id="87″ slug="bet-mlb"]
[text-blocks id="418″ slug="best-sportsbooks"]
Follow @SBTSportBetting